Jill Biden's Rating Just Fell Off A Cliff – Since January 2021, The First Lady's Favorability Has Dropped 24 Points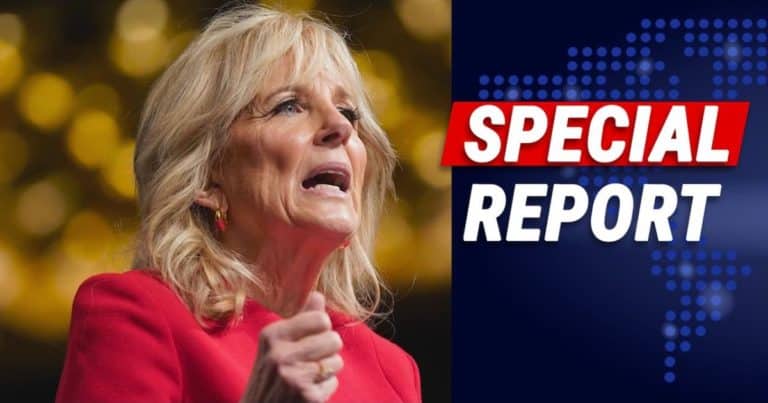 For much of President Joe Biden's tenure, America has watched his favorability rating decline. Citizens are becoming increasingly unhappy with his performance, and cite his age as a primary concern.
Recently, one poll showed confidence in the President had dropped to a 50-year low of 23 percent. Various favorability polls put Biden somewhere in the 30s, as inflation issues take their toll.
However, Joe isn't the only member of the White House to see a sharp rating decline — the First Lady has felt the sting, too.
For a while, Jill Biden has fared better than her husband in the polls, and typically outstrips Vice President Kamala Harris as well. Many view her as less of a lightning rod and less controversial overall.
But the economic struggles the country faces, coupled with the President's flagging numbers, has impacted wife Jill as well.
In a recent survey conducted for CNN by SSRS, a group of 1,459 adults were asked how they viewed certain people and groups often in the news. For each, they were asked if they held a "favorable or unfavorable opinion."
When the First Lady's turn came up in the survey, the results were a little surprising.
Via The Daily Wire:
First Lady Jill Biden hit her lowest approval level since President Joe Biden took office, dropping 24 points from last year, according to a new poll.

When Jill Biden's name came up, 34% of those polled had a favorable opinion while 29% had an unfavorable one. Another 37% said they were unsure.

FLOTUS' likeability dropped 24 percentage points since January 2021, when her likeability was at 58%.
"Meanwhile, the public's view of first lady Jill Biden is mixed: 34% have a favorable opinion, 29% unfavorable and 37% are unsure how they feel about her." https://t.co/a8sISoXv39

— Katie Rogers (@katierogers) July 18, 2022
Though more people have a favorable opinion than unfavorable of Jill Biden, it's the year-over-year drop that might be concerning for Democrats.
She was sitting at 58 percent in January 2021, so to fall down to 34 percent in the past 18 months is definitely a steep fall-off. Much of it will likely be attributed to husband Joe's declining approval.
It also probably didn't help that Jill Biden committed a PR gaffe during a "Latinx" speech, where she compared Hispanic Americans to tacos.
It's further worth mentioning that the White House and Democrats in general appear to be losing the Hispanic vote. In the past few years, polls have suggested that this voting group is pulling away from the left.
The CNN poll also showed drops for both Joe Biden and VP Harris: the latter dropped 19 points to 32% (from 51% in 2021) and the President has fallen 23 points, down to 36% (from a high of 59%).
And when asked if they approve or disapprove of how Biden is "handling his job as President," 62% said they disapprove; only 38% approved.
These numbers are in line with most surveys conducted this summer, and they could spell trouble ahead for the midterm elections. Some experts maintain that these low numbers could result in big losses for Democrats.
If the "red wave" does happen in November, most will point toward these low statistics as one of the big reasons why Democrats lost power in D.C.
Key Takeaways:
First Lady Jill Biden's favorability rating has declined sharply in about 1.5 years: down 24 points.
Both President Biden and Vice President Kamala Harris have also seen steep declines (19 and 23 points respectively).
These tumbling poll numbers indicate a significant "red wave" in the midterm elections.
Source: The Daily Wire