J6 Shaman Gets an Unexpected Update – He has been released from prison to a halfway house 14 months early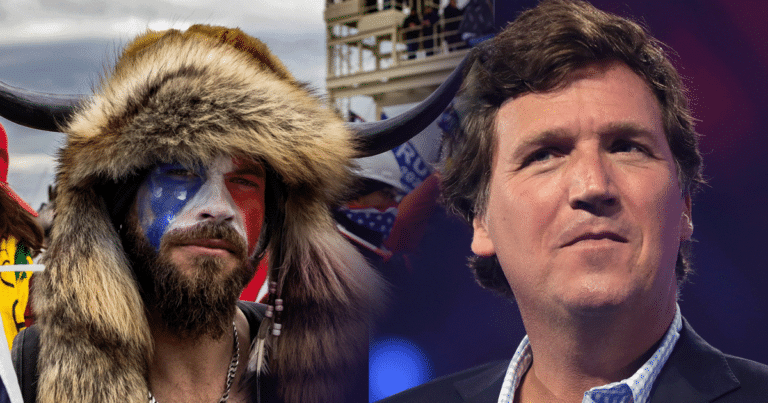 Correction notice: The article previously stated several things about Chansley being innocent and how the videos released by Tucker proved he did nothing wrong, but this was a gross overstatement of the situation. The videos did not clear his name and Chansley in fact signed a statement of facts in court that specifically state he was there illegally.
What's Happening:
Fox News's Tucker Carlson called into question the left's J6 narrative. In a bombshell report, he showed previously unreleased footage that adds new context to the situation. One person he featured in particular was Jacob Chansley, who became the face of the left's attacks on Trump supporters.
The man wore a Viking helmet face paint on the day of the event. The media called him the QAnon Shaman. Chansley was thrown into prison. But just a short time after Tucker showed videos of him with police that are making him question what was going on, he got some interesting news.
From Daily Mail:
The so-called 'QAnon Shaman' who pleaded guilty to storming the US Capitol on January 6 has been released from prison to a halfway house 14 months early, in an apparent reduction for good behavior…

Chansley's release comes weeks after his former attorney demanded he be freed in light of new video from the Capitol riot, but his move to the halfway house appears to be unconnected.
Now, he's been released from prison and is required to fill the rest of his sentence at a halfway house for twelve months. Many people think of him as an enemy of democracy and the video seemed to show him walking around without issue which has caused many people to question what REALLY went on inside. However, despite all of that, Chansley signed a statement of facts in court that agreed that he was trespassing and was inside illegally and was refusing to leave when asked by police to leave.
With a federal conviction on his record, he will have a hard time getting a job anywhere.
Source: Daily Mail