Smoking Gun Revealed by D.C. Whistleblower – Hunter Biden Can't Avoid This Bombshell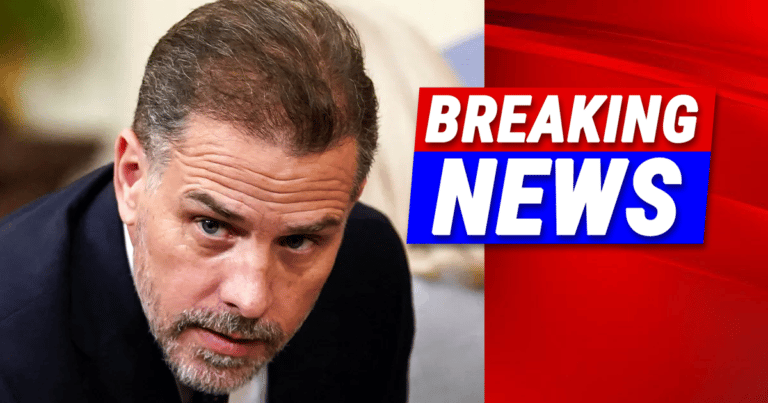 What's Happening:
Things are getting pretty bad for Joe and the "Biden Crime Family." Americans were stunned when guilty-as-sin Hunter Biden got a sweet plea deal.
But that only lit a spark under House Republicans, who are now on a warpath to hold this crooked family accountable. An IRS whistleblower is outing both the Bidens and the DOJ.
House Speaker McCarthy is prepared to launch an impeachment probe against AG Garland. But now, the same person to expose the DOJ's corruption is dropping another bombshell.
It turns out, Hunter got a massive windfall between 2014-2019. It was certainly something the IRS should have investigated. But guess what?  From The Post Millennial:
IRS whistleblower Gary Shapley alleged on Tuesday that Hunter Biden received $8.3 million from overseas business dealings between 2014 and 2019.

"We weren't allowed to ask questions about that," Shapley told Fox. "We weren't allowed to ask about the 'big guy,' we weren't allowed to include certain names in document requests and search warrants. So we were precluded from following that line of questioning."
BREAKING: IRS Whistleblower says the total amount of money that Hunter Biden received from overseas business deals came to $8.3 million between 2014 and 2019 but they were not allowed to ask questions about the involvement of "The Big Guy", Joe Biden

— ALX 🇺🇸 (@alx) June 28, 2023
It seems like the IRS uncovered ample evidence that could have led to indicting the Bidens. They discovered Hunter Biden got $8.3 million from Ukraine and China between 2014 and 2019. Need I remind you that Joe Biden was vice president until 2017–and had been working with both those nations.
That is more than enough for the government to investigate why Hunter got all this cash. Why did foreign entities give this much money to a sitting vice president's son? The IRS should have dug deeper and even refer this to the DOJ.
But the whistleblower plainly stated that they were "allowed" to ask questions about any of this. They weren't even able to dig around about this "big guy" mentioned in Hunter's emails, whom most people know was Joe Biden.
Who stopped them? The IRS, we know, was pressured by Joe Biden's own DOJ to stop the investigation. That is a serious conflict of interest and could be obstruction of justice. The DOJ's top official, Attorney General Merrick Garland, answers to Joe Biden.
And Garlands agency specifically ordered the IRS to stop investigating Biden's son, because it might have implicated Joe himself.
You don't need Sherlock Holmes to figure out what was going on. This is more than enough for Speaker McCarthy to impeach Garland and move on to Biden himself.
Key Takeaways:
The IRS whistleblower revealed Hunter Biden received $8.3 million from China and Ukraine.
The payments were made partly during Joe Biden's time as vice president.
The whistleblower also revealed they were prevented from investigating these questionable payments.
Source: The Post Millennial