Hunter Biden Finally Blows Back on Joe – A Majority of Voters Believe the President Cashed In on Hunter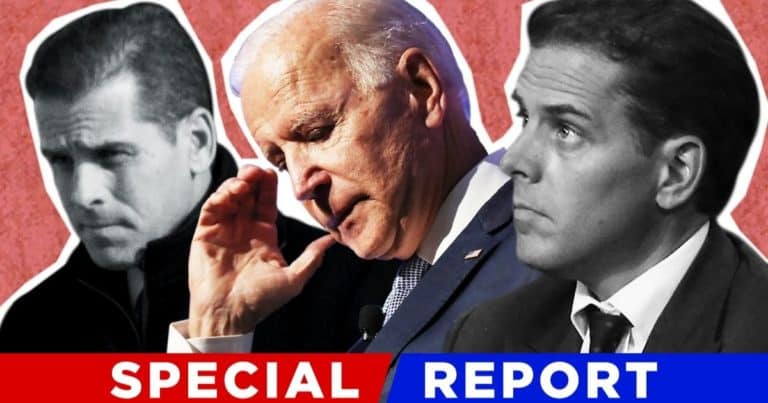 What's Happening:
For nearly two years, we've heard about the questionable behavior of Hunter Biden. The media tried to cover it up. But even mainstream outlets aren't hiding it anymore.
Much of what Hunter's done has some connection to his father. But Biden refuses to admit to it.
But it appears the people aren't being fooled.
From Rasmussen Reports:
A new national telephone and online survey by Rasmussen Reports finds that 69% of Likely U.S. voters believe it's likely the president was aware of at least some of Hunter Biden's major foreign business dealings, including 49% who think it is Very Likely. Just 22% don't think it is likely President Biden was aware of his son's foreign deals, and 10% are not sure.
Why It's Important:
Wow, this is pretty bad. A new poll from Rasmussen reveals that a majority of voters believe Biden was aware of his son's shady dealings.
A staggering 69% believe that it was likely. That includes 49% who think it is very likely. Only a minority, 22%, don't think it was possible.
These high numbers are probably due to the fact that so much content has come out connecting Biden with questionable deals, activities, and habits.
Considering how close he has been with his father, historically, view people are willing to believe Joe knew nothing.
In fact, some text messages and emails suggest Hunter involved Joe in some of his business. It is possible that Joe even helped arrange major deals and took a cut of the profits.
Biden and his staff continue to claim that is not the case and play make-believe that these scandals won't touch him.
In recent months, we've learned that Hunter made deals with major countries, including China, Russia, and Ukraine.
All of these countries had ties to Joe Biden, when he was vice president. Do we really believe he wasn't even aware of what his son was doing?
But Americans want to know the truth. Democrats in Congress refuse to look into this.
Something tells me, though, that if Republicans retake the House next year, there will be more than a few investigations.
If Biden wants to be honest with Americans, he'd just come clean. But do you think that's likely, coming from a man like Joe?
Key Takeaways:
A new poll reveals that 69% of Americans believe Joe was aware of Hunter's deals.
Only 22% think that it was not likely Joe was aware of what Hunter was doing.
This comes as Biden continues to deny any role in Hunter's business.
Source: Rasmussen Reports