Hunter Biden's China Evidence Released – Top Republicans Grassley and Johnson Send U.S. Attorney Bank Records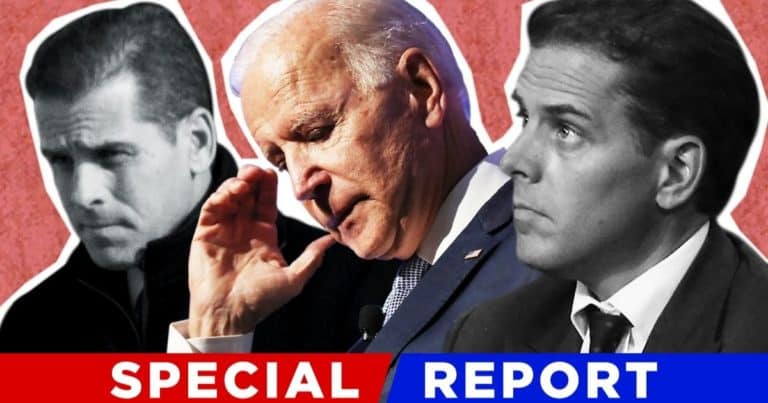 What's Happening:
The left has done its best to bury Hunter Biden and all his incriminating activity. But, despite all that, Hunter keeps popping up to jeopardize the entire Biden administration. If only a fraction of what Hunter's been accused of was done by one of Trump's children, there would be endless investigations and media meltdowns.
But we're just supposed to ignore it all because it comes from Biden's son? One group who refuses to just let it go is Senate Republicans. And two of them have uncovered a treasure trove of information that could seal Hunter's fate. They just sent it over to federal investigators.
From Fox News:
Republican Sens. Chuck Grassley of Iowa and Ron Johnson of Wisconsin are sharing with the U.S. attorney leading the criminal investigation into Hunter Biden more than 200 pages of bank records related to his and the Biden family's alleged "connections to the Chinese regime and persons connected to its military and intelligence elements".

[…]

The records reveal transactions between Hunter Biden-linked business entities and Chinese energy firm CEFC, which reportedly had ties to the Chinese Communist Party.
So, it seems Hunter Biden was much more in bed with China than previously revealed. Republican senators have sent over 200 pages of bank records connecting Hunter Biden's interests with the Chinese government, military, and intelligence elements.
That can't be good. We know Hunter received investments from Chinese businesses, back when his father was negotiating with the country as vice president. Many have wondered if a conflict of interest is poisoning the Biden administration's stance on China because of that.
But this new development is casting more light on the situation. It seems Biden was much more embedded with China than previously suspected. And it seems he was getting rich from entities connected with China's very worst powers.
What did China get in return? And how has China profited since Biden's entered the White House? Should we just ignore all this–because the media tells us to? Or should the American people demand answers?
The only way we will is if there are congressmen willing to do so.
Key Takeaways:
Republican senators sent 200 pages of bank transactions to federal investigators targeting Hunter Biden.
The transactions reveal Biden received funding from groups connected to the Chinese communist government.
Americans have long suspected Hunter and Joe Biden were compromised due to Hunter's activity.
Source: Fox News