Hours After New Trump Poll Erupts – Liberal Media Host Can't Believe His Eyes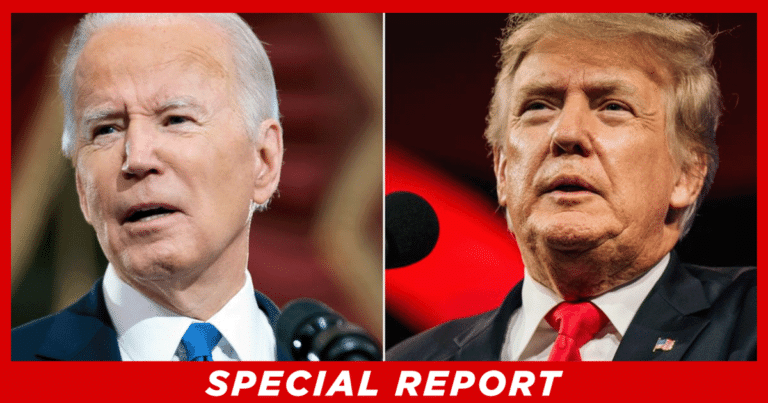 What's Happening:
Most people seem to agree that Democrats are indicting Trump to stop him from getting re-elected. The strategy seems to be to make Trump look like a criminal in the eyes of voters, so they won't support him.
Is that underhanded? Yes. Is that election interference? Sounds like it. But is it working?
That's the big question. Many think Democrats launched this indictment now, to spoil Trump's primary chances. And if by some miracle he makes it to the general, he'll be flattened by Biden. But a new MSM poll has come out pitting Trump with Biden. And one liberal pundit is shocked.
From Fox News:
ABC's Jonathan Karl appeared shocked Sunday by a poll conducted after the indictment of former President Donald Trump that put him just slightly behind President Joe Biden in a potential 2024 election rematch…

"This is a poll, again, taken largely after the indictment. I mean, that's going to make you – that's within the margin of error. That's a statistical tie," Karl said on "This Week."
He asked the panelists, "What does that say about Biden if he's barely beating" Trump?
A new poll from Quinnipiac has Biden at 48% and Trump at 44%. ABC's Jonathan Karl was shocked to see Trump doing so well, in a statistical tie with Biden. His surprise proves that Democrats were expecting the indictment to destroy Trump's chances.
But the exact opposite has happened. More Americans are getting behind Trump simply out of anger that Democrats would stoop this low.
The host, ever the liberal booster, claimed this says more about Biden than it does Trump. He seemed upset that Biden is "barely beating" the former president.
Democrats refuse to admit just how big of a failure Joe Biden is. He tanked the economy, opened the border, is raising taxes, and sending our money to fund wars overseas. And that's not taking into consideration his possible criminal doings with his son Hunter and the signs of Joe's cognitive decline.
The left can do whatever they want with Trump, but it still won't erase the fact they have a vegetable running for their party.
We can't predict what will happen. Nor say whether these polls will hold. But what we can say is that if Democrats really did indict Trump to influence the election, they are failing big time.
Key Takeaways:
A new post-indictment poll has Trump in a statistical tie with Joe Biden.
One ABC host was shocked by the news, fearing a Joe Biden defeat.
Many Americans believe Democrats indicted Trump to influence the 2024 election.
Source: Fox News