Hours After Secret Service Closes Investigation – McCarthy Delivers a Scathing Truth Bomb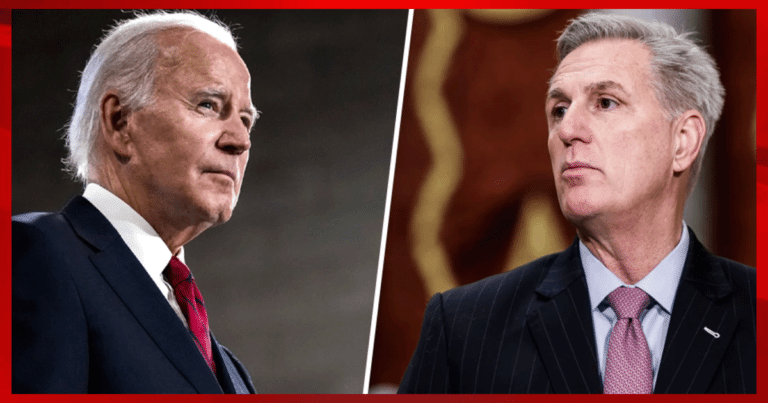 What's Happening:
Well, as expected, the Secret Service refused to name a culprit in the White House cocaine scandal. Despite the fact the White House has security cameras and possible witnesses to the event, the agency claimed they were "not able" to discover who left behind the illegal drugs. But not only this, the SS also admitted in a report to Congress that twice marijuana was also found on the White House grounds.
Wow, Hunter Biden sure gets around–I mean, what a mystery!
Many Americans have their suspicions about this scandal. But we are not at all surprised that the Secret Service is possibly protecting the guilty party. House Speaker Kevin McCarthy was in no way pleased with their report. And he is dropping a truth bomb on this administration.
From Fox News:
The U.S. Secret Service's (USSS) announcement it has closed its investigation into cocaine found at the White House on July 2 is another example of President Biden's orbit getting disparate, favorable treatment, House Speaker Kevin McCarthy told Fox News on Thursday…

"They have cameras 24-7. It just seems to me when it comes to the 'Biden, Inc.' family, they get treated different than anybody else."
Kevin McCarthy explained that the White House is the most secure building in the country. Even he, as a member of Congress, has to go through security to get in. Yet, for some reason, marijuana and cocaine were found on the premise? And nobody's to blame?
McCarthy blasted the Secret Service and said "Biden, Inc." gets different treatment than the rest of us. As we've seen many times before, Joe and his corrupt family always seem to get off scot-free. Hunter Biden pleaded guilty to tax, drugs, and gun crimes. Yet he is a free man.
How many of us could get that kind of deal?
We've learned about how the FBI refused to investigate the Bidens, even after having documents alleging their guilt. They even did not investigate Hunter Biden's laptop, just before the election, in order to protect Joe's chances. The DOJ is even attacking Biden's top rival, Donald Trump, in a seeming attempt at influencing the next election.
Why should we be surprised that the Secret Service is also protecting the Bidens?
Now, we don't know for sure who left behind all these drugs. But we do know it couldn't have been anyone forced to go through security. So staff, visitors, and reporters would have been caught. And if it had been someone like that, the Secret Service would have gladly thrown them under the bus.
So… who is left? Someone with so much privilege that they could bypass security and be shielded from the law.
You know who that is.
Key Takeaways:
Kevin McCarthy blasted the Secret Service report, accusing the Bidens of receiving special treatment.
The Secret Service refused to name someone over the cocaine scandal.
McCarthy criticized the report, pointing out there is strict security and cameras in the White House.
Source: Fox News