After Gas Prices Go Through The Roof Across America – President Biden Could Shut Down Additional Pipeline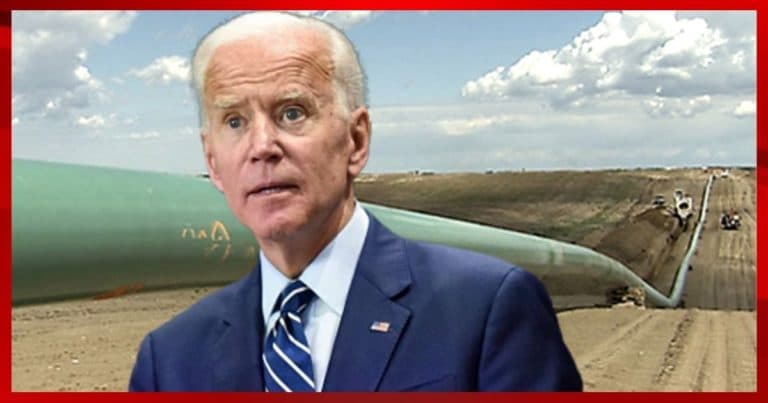 What's Happening:
Normally, fuel prices tend to ease during the Winter months. That's because fuel is plentiful and people aren't driving as much as they did in the Summer. But these aren't normal days. And thanks to Biden's anti-fossil fuel agenda, fuel costs are rising just as the cold sets in.
Biden's energy secretary even laughed in a reporter's face when asked about lowering gas prices. The administration seems to be putting the green lobby's agenda above normal Americans. Now, he is mulling another move that will send fuel prices to new heights.
From Fox News and Townhall:
News that the administration "was quietly studying the potential market impact of killing" Enbridge's Line 5, which transports 540,000 barrels per day of light crude oil and natural gas liquids from Superior, Wisconsin, to Sarnia, Ontario, which is then refined into propane, was first reported by Politico and has led to fierce pushback from Republican lawmakers.
Even as fuel prices rise and Americans struggle to heat their homes, Biden considers shutting down an actively working pipeline. This pipeline transports fuel between Michigan and Canada. And although it supplies billions of dollars to the Midwest as well as tens of thousands of jobs, the radical left want it shut down.
Biden even ordered the company who runs it, Enbridge, to shut it down in May. The company refused. So, it appears Biden is looking for legal loopholes to cripple the Midwest and our energy production.
In addition to hurting jobs and our energy sector, experts also worry that shutting down the pipeline would be a greater environmental danger. The pipeline itself safely transports billions of gallons of oil, avoiding numerous hazards. But without the pipeline, the oil will have to be transported by truck or railways, increasing the risk of accidents.
It doesn't seem that Democrats have even thought of that—or care. After all, their goal is not to come up with a safer way to transport oil but end the industry entirely. This is why Biden has not lifted a finger to deal with the rising fuel prices, even those we can fix it in a day.
Biden's administration has been sacrificing America's prosperity at the altar of the environmental cult. Even as other countries rake in the bucks, we suffer. Americans can't go to work, heat their homes, or afford basic utilities.
Biden and his cronies just laugh.
Key Takeaways:
Biden mulls shutting down another pipeline, as fuel prices skyrocket.
The pipeline transports fuel between Michigan and Canada.
This comes as experts predict higher gas and heating costs this Winter.