Matt Gaetz Makes Major 2024 Primary Prediction – If Donald Trump Runs, He Doesn't Think Governor DeSantis Will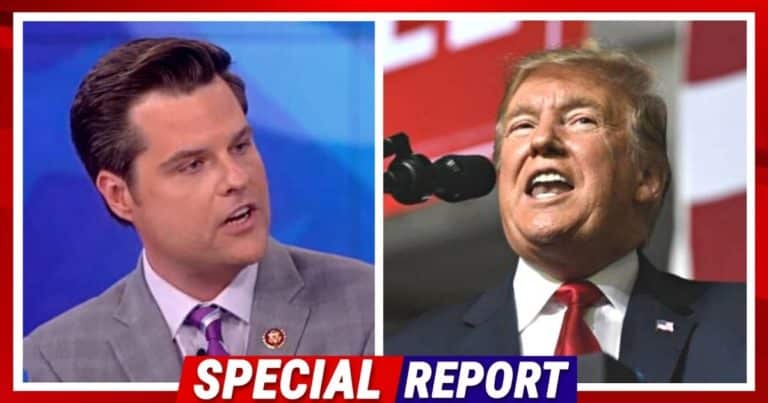 What's Happening:
The 2024 Election promises to be a blockbuster. Democrats are in complete disarray with a weak president and no clear replacement in the wings.
Republicans, on the other hand, have a deep bench but Trump's shadow looms over any possible primary.
We may be two years away, but major polls are trying to guess who within the GOP will be the nominee.
Trump, in the vast majority of polls, is the clear winner. But some folks are pretty interested in Florida Gov. Ron DeSantis, who talks big like Trump may be more politically savvy.
Will the popular conservative leader actually jump in it? Florida Congressman Matt Gaetz just weighed in.
From Breitbart:
Rep. Matt Gaetz (R-FL) told Breitbart News exclusively here at the Turning Point USA Student Action Summit (SAS) that he does not believe Florida Gov. Ron DeSantis would challenge former President Donald Trump in a 2024 GOP presidential primary should Trump decide to run.

"I think that's highly unlikely," Gaetz told Breitbart News when asked if DeSantis would run against Trump in his view.
All kinds of talk has surrounded the possibility of Ron DeSantis running for president in 2024.
Some polls suggest he is the only person who could give Trump a run for his money.
Yet, despite all the speculation, DeSantis himself has never given even an inkling that he is interested.
Now, Florida Rep. Matt Gaetz revealed that, if Trump runs again, DeSantis wouldn't run against him.
He said it was "highly unlikely" that the Republican governor would try to go after him.
We know that Trump and DeSantis are close allies. Trump supported DeSantis's 2018 campaign for governor.
The Florida governor has made serious waves in the state, doing what few politicians do: make good on his promises.
Florida is thriving, while so many other states (mostly blue) are dragging.
DeSantis seemed to have no interest in running for president in 2024. But the notion has gained steam thanks to numerous straw polls.
Not to mention comments from historical liberals like Joe Rogan and Elon Musk.
Could all of that have been smoke and mirrors by the liberal elite to distract from Trump's plans? We've seen them do that before.
Gaetz doesn't think DeSantis will run against Trump. And he's in the best position to know.
Key Takeaways:
Matt Gaetz revealed that Ron DeSantis will not run against Trump in 2024.
The Florida representative said that was "highly unlikely."
This comes as many polls suggest DeSantis has a chance at the nomination.
Source: Breitbart