Football Coach Gets Fired For Praying Before Games – Then GOP Lawmakers Drop The Supreme Court Gavel, Request Reversal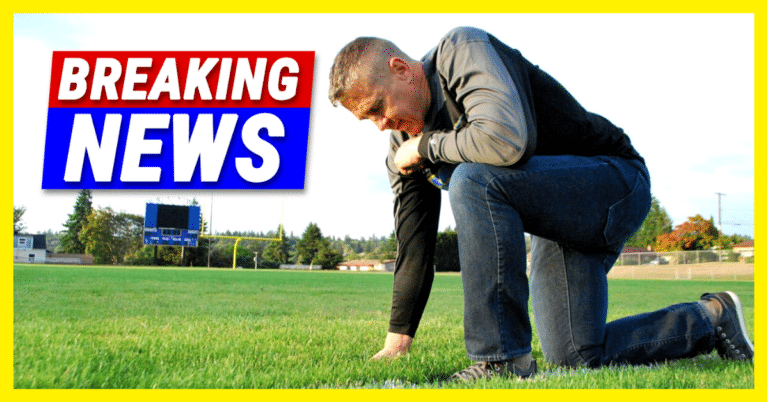 What's Happening:
In this age of Biden, Americans have to fight even harder to defend their rights. There are those in power who would love nothing more than to strip away every last liberty protected by the Constitution. Every day, we see more city councils, agencies, and school boards trying to rob Americans of their freedoms.
Not long ago, we learned about a football coach who was fired for praying after games. In a land of religious liberty, where the government cannot infringe on your worship, a man was fired for the "crime" of praying. The man has fought this injustice, bringing it before the courts.
And now, a team of Republican lawmakers is joining the fight.
From Western Journal:
Oklahoma Republican Sen. James Lankford led an amicus brief signed by 12 senators and 14 House members in support of Coach Joe Kennedy, a high school football coach who was terminated over his post-game prayers at midfield…

Lankford's amicus brief requests the Supreme Court to review and reverse the lower court's decision…

"My colleagues and I are standing up for Coach Kennedy's right to live his faith—this is his inherent right," Lankford tweeted Tuesday.
Sen. James Lankford from Oklahoma wrote an amicus brief, urging the Supreme Court to take up the case of Coach Joe Kennedy. He was joined by 12 senators and 14 House members. They are asking the court to rule in favor of the coach and his First Amendment rights.
The Republicans blasted a government who tried to "force [Kennedy] to practice [his] faith in the space of its choosing." They are calling on the court to review this case and possibly reinstate this man's job.
It's hard to believe that a man can lose his job over prayer. Especially in America. But that is the reality we are facing in today's day and age. The increasingly secular left controls much of our culture and policies. They seem to despise anyone of faith—and seek to drive us into the darkness.
But our country was founded on principles of faith and God-given liberty. Just because a bunch of Democrats don't like it doesn't mean they have the right to deny a man his prayer. Standing on a football field violates no laws or statutes.
It appears the school was violating the First Amendment when they fired this man. And if the Supreme Court takes up this case, they have a chance of defending this most critical right.
Key Takeaways:
Republican lawmakers from the House and Senate wrote to the SCOTUS to defend a fired coach.
The coach was fired after he prayed during a post-game session on the school's football field.
The lawmakers are arguing the government does not have the right to dictate an American's religious practice.
Source: Western Journal