Florida Makes Move Against America's Largest Enemy – DeSantis Just Signed Ban on Chinese Citizens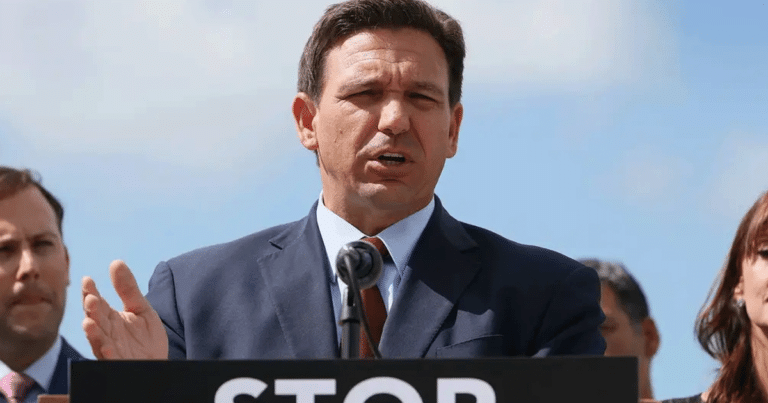 What's Happening:
It's no secret that America is facing numerous threats. Joe Biden, who has been bought and sold by the highest bidders, does nothing as our economy, national security, and safety decline. It seems Biden puts everyone but Americans first, giving away our money as illegals overrun our communities.
But at least one state is sane enough to say, "No more!" The state of Florida has just taken steps to prevent a growing enemy from gaining a foothold. This foreign nation has taken over other states, gaining access to our resources and military intel. But Gov. DeSantis just signed a bill that will shut down this "Red Menace."
From Fox News:
Gov. Ron DeSantis signed legislation Monday banning Chinese citizens from purchasing land in Florida unless they are also a U.S. citizen or permanent resident.

"We don't want the [Chinese Communist Party] in the Sunshine State," DeSantis said at a press conference in Brooksville, Florida. "We want to maintain this as the free state of Florida."
Several states have tried to ban communist China-backed entities from buying land. Shockingly, Republicans in South Dakota killed a bill that would have done so, because the farming lobbyists wanted to sell out.
But in Florida, they just passed a law that will prevent communist China from buying up American land.
It's no secret that China is becoming a bigger threat. Just recently, Chinese citizens were arrested in NYC for operating a secret police force–which spied on American citizens. Chinese companies (which are controlled by their government) are buying up farmland as fast as they can.
This is taking resources from American families. But worse, they are conveniently buying land near military bases. Uh… duh! For any American politician to roll over and let this happen is criminal. But powerful lobbyists are preventing laws like this from passing because they only see dollar signs.
But the threat is real. China is using every trick imaginable to take down the United States. We know their puppet, China Joe, will do nothing from the White House to stop them. And they are now trying to bring down state governments, so they can buy up the land literally beneath our feet.
If your state refuses to stop China from buying land, it's time you reconsider your representatives.
Key Takeaways:
Florida Gov. DeSantis signed a bill banning China from buying land.
This comes as Chinese-owned companies and Chinese citizens buy land near military bases.
Other states have refused to ban this practice, putting Americans at risk.
Source: Fox News