Florida Defies President Biden's Order – They Just Punished Uncooperative Schools By Yanking Federal Aid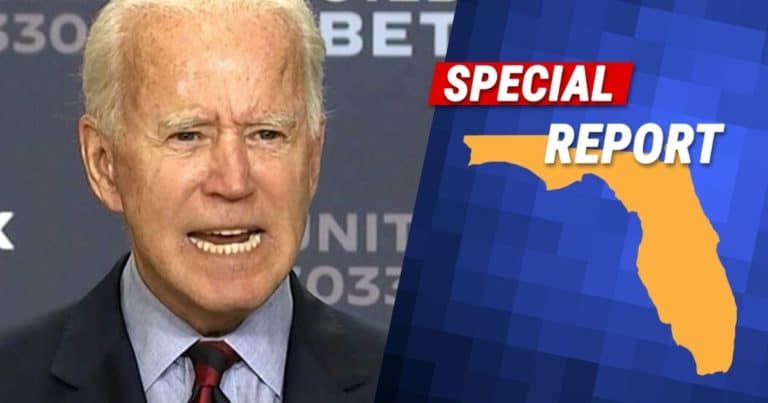 What's Happening:
Since Biden entered office, he has been trying to take control of the states from our elected leaders. His administration has issued rules and mandates against local communities that directly defy state laws. But conservative governors have refused to comply.
A leader in the fight for our liberty is the red state of Florida. Gov. DeSantis has refused to bow to the radical whims of Biden and his administration. He has even vowed to confront counties that ignore state law to go along with the federal government's mandates. And now, two counties just learned the hard way DeSantis means business.
From Politico:
The Florida Department of Education this week stripped local school boards of federal aid money over their masking policy, directly defying the Biden administration…

Florida officials yanked the federal grant money for Alachua and Broward counties that was meant to offset penalties for enacting a local mask mandate just one day after the U.S. Department of Education warned that the move would violate requirements in federal law, a clear sign that the state and feds are still at odds over Covid-19 policies.
The federal government was actually offering school boards money to encourage them to defy orders from their own state governors. It seems they were trying to pay off schools to comply with mask mandates, even when state leaders banned such rules.
Two counties in Florida, Alachua and Broward, broke state law to issue mandates for their schools. They were expecting the federal government to step in and give them money the state was withdrawing. But they learned that DeSantis means business and stripped these schools of that money.
After all, federal funds have to go through the state first. Why would these counties think Florida would just bow and give them this money—knowing they were violating state laws?
It's pretty shocking to think that the federal government was going out of its way to undermine the authority of state leaders. Biden is directly opposing the very principles of the Constitution, which prevents the federal government from ruling over states like some kind of tyrant.
But that's marked much of Biden's presidency. He has tried to strip away the liberties and rights of regular Americans, in order to push his agenda. From crushing regulations to ridiculous mandates, Biden is willing to trample over anything to get his way.
Even the Constitution.
Key Takeaways:
Florida striped federal money from two school boards for violating his mask ban.
The counties defied state law, in order to get money from the Biden administration.
Florida has banned mask mandates in public schools, defying the presidency.
Source: Politico