FBI Accused of Foul Play in Hunter Biden Investigation – Whistleblowers Slam 'Coordinated Effort' to Discredit Evidence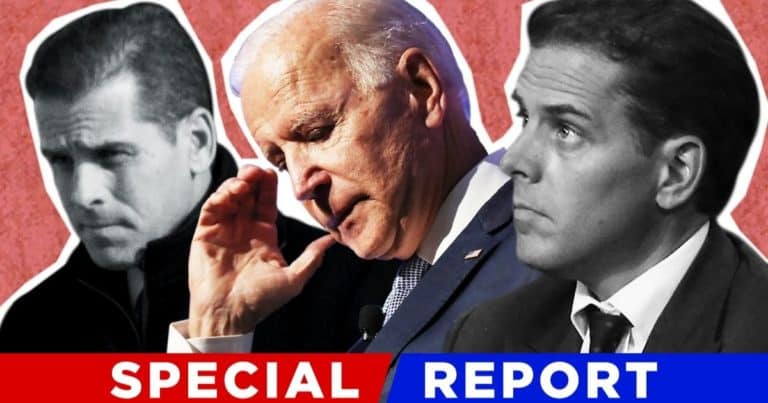 What's Happening:
For years, Americans have dismissed the concerning allegations against Hunter Biden, because the media claimed it was all "disinformation."
The media was able to say this, because entities within the federal government claimed this to be true.
But now, Sen. Chuck Grassley is dropping a bomb on the FBI.
From Breitbart:
Sen. Chuck Grassley (R-IA) claimed that "highly credible" whistleblowers informed him of efforts within the FBI and the Justice Department to downplay or dismiss negative information about Hunter Biden…

"The information provided to my office involves concerns about the FBI's receipt and use of derogatory information relating to Hunter Biden, and the FBI's false portrayal of acquired evidence as disinformation. The volume and consistency of these allegations substantiate their credibility and necessitate this letter," wrote Grassley.
Ranking member of the Senate Judiciary Committee, Republican Sen. Chuck Grassley, revealed that whistleblowers notified him of efforts by the FBI to downplay negative information about Hunter Biden.
Grassley revealed this in a letter to the FBI's director, Christopher Wray.
The senator said that in 2020, the FBI Supervisory Intelligence Analyst Brian Auten took steps to "improperly discredit" negative Hunter Biden information.
He labeled the information as "disinformation" to derail efforts by the agency to investigate Joe Biden's son.
Now, why would a high-ranking FBI agent go out of his way to protect Hunter Biden? Could it be because this was just a short time before the Presidential Election?
Grassley also claims that one month before the election, "an avenue of derogatory Hunter Biden reporting was ordered closed" by a top FBI agent.
This was around the same time details from Hunter's laptop were being reported on by the New York Post.
And around the same time that the New York Times and other powerful liberal-controlled outlets tried to hide the story.
Coincidence? Do you really believe that?
It's unclear what these revelations mean for the FBI or Hunter Biden. We can be confident that Democrats in Congress will do nothing about it.
The truth will only come to light if Republicans regain the power to launch investigations of their own with Congress.
Key Takeaways:
Grassley claimed the FBI downplayed Hunter Biden allegations as "disinformation."
A whistleblower sent this information to the senator's office.
The FBI allegedly tried to shut down investigations against Hunter, just before the election.
Source: Breitbart