Democrat Eric Swalwell's Closet Swings Open – Evidence Shows He Used Campaign Funds On Gambling, Drinks And Fancy Restaurants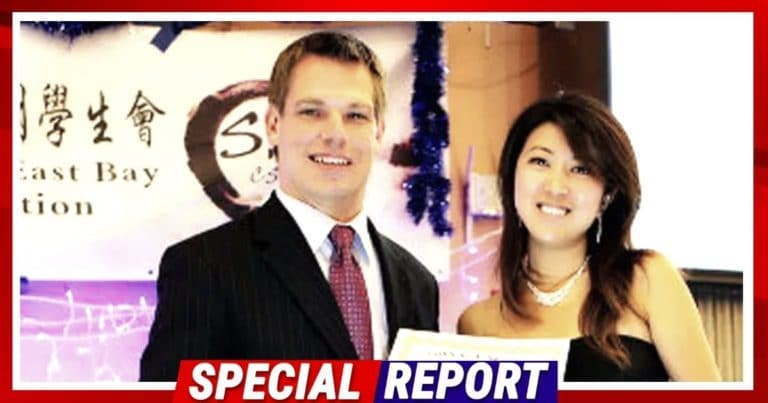 What's Happening:
The truth remains, if you turn over a rock, you'll find a crooked Democrat politician. Perhaps one of the most infamous is Rep. Eric Swalwell. You might remember Swalwell for his antics with a known Chinese spy, Christine Fang.
But Eric is back. And this time, it's no better. Despite all his failings, Pelosi refused to remove him from the House Intelligence and Homeland Security Committees. Maybe the party will think differently, now that it has come out that he spent campaign funds on some seriously indulgent living.
From Daily Caller:
Democratic California Rep. Eric Swalwell spent thousands of dollars of campaign funds at ritzy steak houses, sporting events, bars, a beer garden, a liquor delivery app and even at a casino, according to Federal Election Commission (FEC) records reviewed by the Daily Caller.
Uh-oh. Rep. Eric Swalwell reportedly spent thousands of dollars of campaign money on luxurious amenities while in D.C. According to an FEC report, he spent donor cash on limo services, expensive restaurants, baseball games, liquor deliveries, and even at Cosmopolitan Casino in Las Vegas.
Campaign finance law is pretty clear. Anything spent with campaign dollars that was not for the campaign is illegal. Can Swalwell prove that all this was for campaign business? I'm not sure he can. This certain should trigger an investigation by the House or other authorities.
But even if the Democrats ignore this, it will not go over well with donors. Many Americans donate their hard-earned money to candidates, thinking the money will ultimately make the country a better place. Will supporters be happy to learn Swalwell was squandering their money on frivolous living?
Why couldn't he spend his own money on limo rides and liquor? As a House representative, he certainly has the bucks for that. Yet he used money that was meant for campaign work for what might not have been campaign business.
Will his supporters demand answers for this?
Key Takeaways:
Eric Swalwell spent thousands of campaign dollars on expensive luxuries.
An FEC report reveals he spent donations on liquor, restaurants, and casino trips.
Swalwell has previously been in the news over his relationship with a Chinese spy.
Source: Daily Caller