After Republican Dr. Oz Stumbles in 2022 Race – His Democrat Opponent Has a Stroke and Looks Very Concerning on the Trail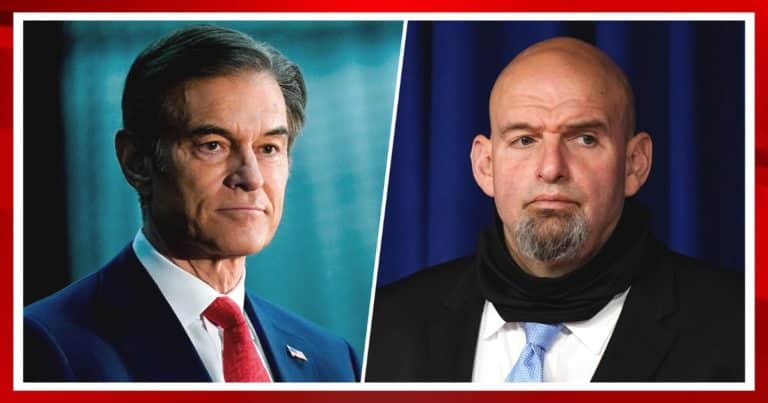 What's Happening:
The race for Pennsylvania senator only heats up. After securing the GOP nomination, Dr. Mehmet Oz appeared to be stumbling in the polls.
His liberal rival appeared to have the upper hand in the often-swing state. But John Fetterman hit a string of bad luck. After suffering a stroke he returned to the campaign trail.
But it's not pretty.
From Twitter:
John Fetterman is not okay. pic.twitter.com/3xiQwiBaT3

— Greg Price (@greg_price11) August 15, 2022
John Fetterman is not okay.
What is it with Democrats and running sick people for high office? We know that the left had no problems with running Joe Biden—despite signs of mental and physical decline.
Their candidate for Pennsylvania senator, John Fetterman, suffered a stroke! I'm not a doctor, but I know that's a pretty serious event.
Instead of asking him to step down and find someone else to run the party… does nothing.
During one of his speeches after returning to the campaign trail, Fetterman did not look or sound good.
The man struggled to finish sentences. He seemed confused and disoriented. Not to mention tired and unenthusiastic.
In reality, his performance was very reminiscent of Joe Biden. Which is terrifying, to say the least.
Fetterman and his campaign might shrug off concerns, but should voters? The man just had a stroke.
Should he really be taking up an office as important as a senator?
This video should have every voter worried. If he can't even give a simple speech, can he be trusted to make important decisions on Capitol Hill?
And how can the Democratic Party just ignore this? Are they so obsessed with power? So eager to hold onto a majority, that they'd let a sick man run for office?
I think you know the answer to that.
Key Takeaways:
Democrat senate candidate from PA, John Fetterman, suffered a stroke.
He struggled to finish sentences during a speech after returning to the campaign trail.
He is running against GOP candidate Dr. Mehmet Oz.
Source: Twitter