Donald Trump Reveals Melania's Reaction to Indictment – And Her Fans Will Stand and Applaud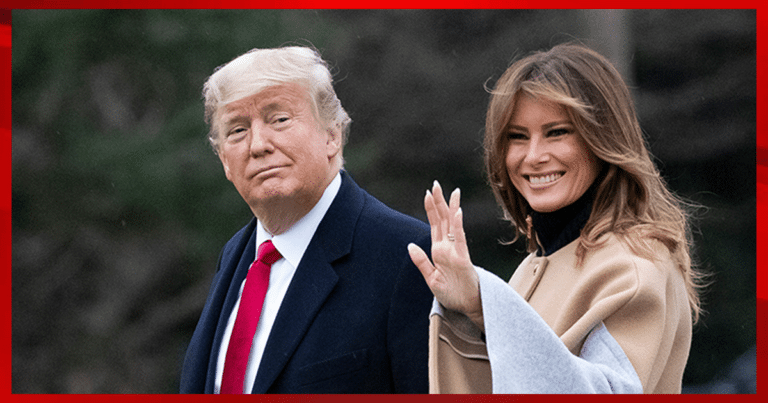 What's Happening:
Many people, from both parties, have reacted to Biden's DOJ's indictment of Donald Trump. Surprisingly, few Republican candidates for president have been willing to condemn this move. Despite this, many Americans believe this indictment is simply an attempt to hijack the election.
But what does one very important woman think?
Melania Trump has stuck by her husband's side, even as the Democrats hounded him. She's had to put up with endless smears against her family. Now, her husband has been indicted after the FBI raided her home. Trump revealed what Melania thinks about this latest news. And it's not what the left was expecting.
From Breitbart:
Former First Lady Melania Trump is not interested in the criminal charges lobbed against her husband or the 2024 presidential primary, former President Donald Trump says…

"In a very low-key way, she doesn't care that much," Trump said. "She's got an attitude that's amazing. She's got a tremendous heart but she takes things for what they are and she's just a very confident person. She doesn't need things like some people, they're always pushing themselves out there – she's the opposite."
Trump revealed that his wife, former first lady Melania Trump doesn't "care that much" about the left's latest attack against her husband. He said his wife and the mother of their children has a "tremendous heart" and she cares very much for their family.
But it does not seem as if she's been shaken by the left's latest indictment. She's been by Trump's side for many years now. Long before he entered politics, Trump was the target of endless attacks by his business rivals. Melania had to put up with all of that, and then the attacks from the liberal establishment.
Perhaps for her, this is just another day being married to a man like Trump. She's seen how the left mercilessly and cruelly attacked him while in office. We shouldn't be surprised to hear she isn't frazzled by this most recent attack.
Previously, Melania voiced her support for Trump's 2024 bid for the White House. She has remained relatively out of sight so far, but promised to continue working with him, should they return to D.C.
Key Takeaways:
Melania Trump is reportedly unconcerned about the indictment, according to Trump.
Trump said that Melania "doesn't care that much" but is concerned for her family.
Melania has long stood by Trump, as his rivals attacked and smeared him.
Source: Breitbart