DeSantis Has 3 Brutal Words for the Cartels – Promises They'll Come True If He's POTUS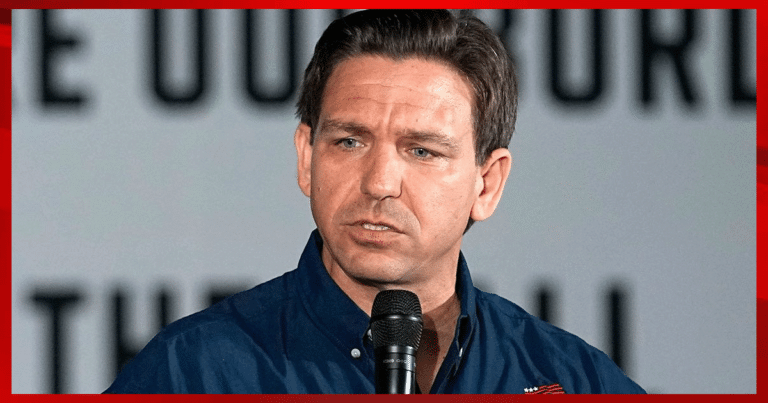 What's Happening:
Thanks to Joe Biden, there is nothing but chaos at the U.S.-Mexico border. Border town officials have revealed that vile drug cartels are running the border, not our law enforcement agents. Biden has turned a blind eye to the millions of illegals that are coming over. And he's done nothing about the deadly drugs flooding into our country, taking countless lives.
But Ron DeSantis has no intention of letting this chaos continue. As Florida governor, he has fought tirelessly to prevent Biden's border crisis from hurting residents. He was recently at the border to discuss Biden's epic failure. And his one move, if elected president, could freeze cartels in their tracks.
From Fox News:
Florida Gov. Ron DeSantis pledged on the campaign trail for president on Monday that his administration will change the rules of engagement at the border to physically stop drug smugglers with deadly force…

"So if the cartels are cutting through the border wall trying to run product into this country, they're going to end up stone-cold dead as a result of that bad decision."

DeSantis added, "If you drop a couple of these cartel operatives, they'll stop coming."
Wow. DeSantis vowed to empower border patrol forces to use deadly force to stop drug cartels from coming over the border. This is a dramatic shift from what we are seeing today when Biden's officials are essentially rolling out the red carpet for these criminals.
The governor reasoned that if someone broke into your home, to do something bad to you, you'd respond with force, right? So, why should we let criminals break into our country, with the intent of spreading bloodshed and violence, and not fight back?
DeSantis vowed to make sure this criminal scum wound up "stone-cold dead" if he was elected president. He would change the rules of engagement, allowing law enforcement to quickly engage the enemy, shutting them down.
I'm sure Democrats are already triggered by this news. If we did it their way, the cartels would be running our country–and we'd be all in prison! Democrats are rolling over for criminal aliens, cartels, and human traffickers.
They do nothing as these monsters destroy lives by controlling the border. Biden is risking impeachment over his refusal to uphold the law.
It's about time something serious was done.
Key Takeaways:
Ron DeSantis vowed to allow deadly force against drug cartels on the border.
This comes as Joe Biden allows the cartels to run the border.
Joe Biden has ignored the border crisis, leading to millions entering illegally.
Source: Fox News