Democrat Leader Sent Spinning with Major Charges – Peterson Allegedly Used Campaign Funds To Support Her Gambling Addiction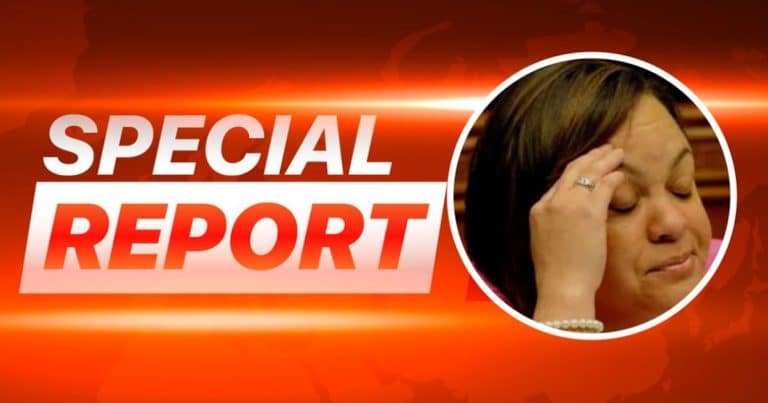 Politicians using campaign funds for personal use is against the rules. Unfortunately, it's a common practice and something watchdogs and campaign authorities are constantly on the lookout for.
Recently, we heard that Democrat Rep. Raphael Warnock had been accused of misusing campaign funds, and this accusation has been all too common in recent years.
But the latest news involves more than just skimming funds for personal use — this one has Black Lives Matter and gambling at the center.
There was only one federal Democratic candidate officially backed by the Black Lives Matter PAC this election cycle. Her name is Karen Carter Peterson, and now she's facing a very serious charge.
Last summer, the BLM PAC pushed $100,000 toward Peterson's failed attempt at getting into Congress in Louisiana's 2nd district.
Carter Peterson didn't win that election and now the news is even worse: she's accused of rerouting campaign and party funds to outside sources, and using money for personal expenses and a gambling addiction.
From Fox News:
The only federal Democratic candidate backed by the Black Lives Matter PAC this election cycle is now facing a wire fraud charge for routing campaign and party funds to outside individuals and companies, and using the money on personal expenses, including gambling.

Peterson, a former Louisiana Democratic Party chair and state senator, resigned from the state senate in April, citing her mental health and gambling addiction.
A federal court hit her with one count of wire fraud this month and though it's only the one count, it's a big deal:
The accusation involves a 7-year scheme where Peterson allegedly diverted state campaign and Democrat party cash to four individuals and four companies. They then cashed the checks and gave the money to Peterson.
This is according to a report in the Louisiana Illuminator, which was followed by more information that she used the money on gambling. And she filed "false and misleading" campaign finance reports.
It seemed she was trying to hide where the money was really going. though she's certainly not denying it.
Peterson took to Twitter to basically confess and say she's trying to set things right:
Today marks an important step in my life-long recovery as I continue to address my gambling addiction. I sincerely apologize for the impact from my compulsive behavior resulting from this addiction. (1 of 2)#gamblingrecovery #makingamends

— KarenCarterPeterson (@TeamKCP) July 14, 2022
She says she has "made full repayment of funds used as a result of my addiction." Peterson adds that she's been "forthright, honest, and fully cooperative with the US Attorneys' Office."
That won't make the charges disappear, though.
Peterson will have to appear in federal court on August 1 and the maximum penalty is 20 years in prison and up to $250,000 in fines. There would also be up to 3 years of supervised release after going to jail.
It isn't likely that she'll face much of that, however, as her attorney says they've entered into a plea agreement with prosecutors.
Currently, according to many polls and surveys, American trust in their elected officials has plummeted to all-time lows. Issues like this certainly contribute to that lack of trust, as most citizens will claim.
Another Democrat in Chicago is accused of taking campaign funds for personal use, and Americans are tired of hearing about politicians and their families getting rich off donations.
The question now is, what sort of punishment should Peterson receive, taking her admission and honesty into account?
Key Takeaways:
The only BLM-backed candidate in the last election cycle faces a serious wire fraud charge.
Former Louisiana senate chair Karen Carter Peterson is accused of taking funding and party cash and rerouting it to herself, to help fund her gambling addiction.
She claims she has repaid the funds and is working on a plea arrangement.
Source: Fox News