China Makes Shock Move Against Spineless Biden – Every Patriot Needs to Get Ready, Because They Are 'Ready to Fight'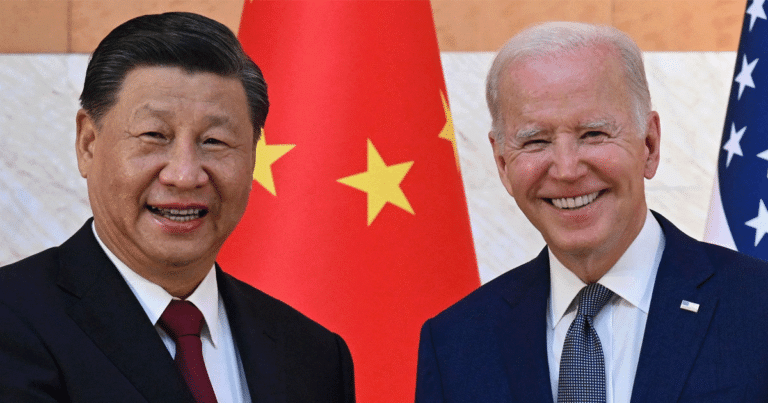 What's Happening:
We've seen Joe Biden fail at confronting China. The communist nation has cheated Americans, taken our jobs, and has even spied on us openly. In response, Biden's done… nothing. Why hasn't he condemned China's attempts to violate our national security?
Could it be because he is a spineless pawn of their dictator, Xi?
Now, things are getting worse. We know that China has some bad intentions for the world. Yet Joe's weakness has forced our allies to go to China for help. It seems China now has an upper hand on the global stage. And they are "ready" to do the very worst.
From AP News:
China's military declared Monday it is "ready to fight" after completing three days of large-scale combat exercises around Taiwan that simulated sealing off the island in response to the Taiwanese president's trip to the U.S. last week…

"The theater's troops are ready to fight at all times and can fight at any time to resolutely smash any form of 'Taiwan independence' and foreign interference attempts," it said Monday.
Wow. China claims it is "ready to fight" after conducting exercises not far from Taiwan. The communist nation has long talked of invading Taiwan and annexing it to its regime. Former U.S. presidents have been able to prevent this.
But Biden's constant failures around the world must have emboldened China. Biden handed Afghanistan back to the Taliban. He failed to stop Russia from invading Ukraine and has since been unable to stop the war.
I guess China thinks Biden will do nothing if it invades our ally Taiwan. Heck, Biden might roll out the red carpet for Xi!
Biden claims to be "tougher" and better at negotiations than our former president. Yet Biden folds faster than a picnic chair in a rainstorm. The 80-year-old puppet does not have what it takes to contend with China.
And that's not even getting into how his entire family's been bought and sold by China. Even if he could, Biden wouldn't stand up to the red menace. He is basically their puppet, doing their bidding from the White House.
China won't be held accountable until Biden's out of office.
Key Takeaways:
China announced it was "ready" for an invasion of Taiwan.
Joe Biden appears unprepared to defend Taiwan, despite claims.
Biden has failed to protect numerous allies overseas.
Source: AP News