Boebert Shows Off Dress Trolling AOC With Trump – She Honors America's "Red Wave" With Message For Democrats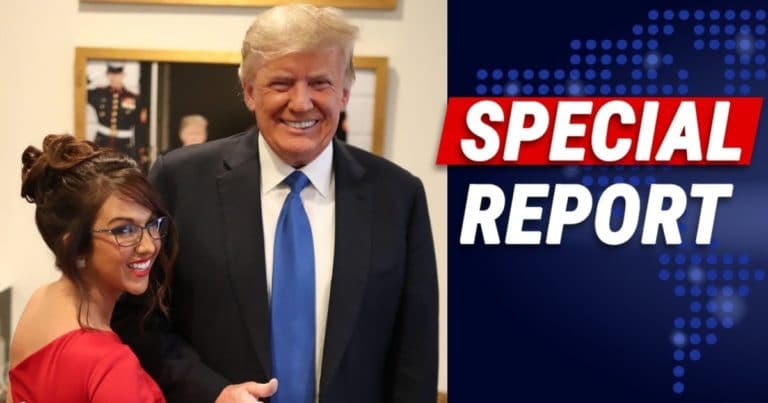 What's Happening:
Democrats should be getting pretty worried about now. They thought they had this country all tied up after 2020. But even with the House, the Senate, and the White House under control, they can't muster up enthusiasm among Americans.
That was certainly on display after their major losses in the 2021 election.
However, on the other side of the aisle, enthusiasm is at record highs. Conservatives are rallying together, creating memes and brilliant trends to criticize and expose old Joe and his liberal cronies.
One Republican newcomer to Congress already has a reputation for stirring things up. And she just posted a picture that will make leftists everywhere melt down. From Fox News:
Rep. Lauren Boebert, the Colorado Republican, took to Twitter on Thursday to apparently show her idea of the new fashion trend sweeping across Washington, D.C., after this week's elections.

Boebert mocked Rep. Alexandria Ocasio-Cortez's "Tax the Rich" dress that the New York Democrat wore to the Met Gala in September.

Boebert's office told Fox News on Friday that she posed for the photo with former President Donald Trump at his Mar-a-Lago resort in Florida this week.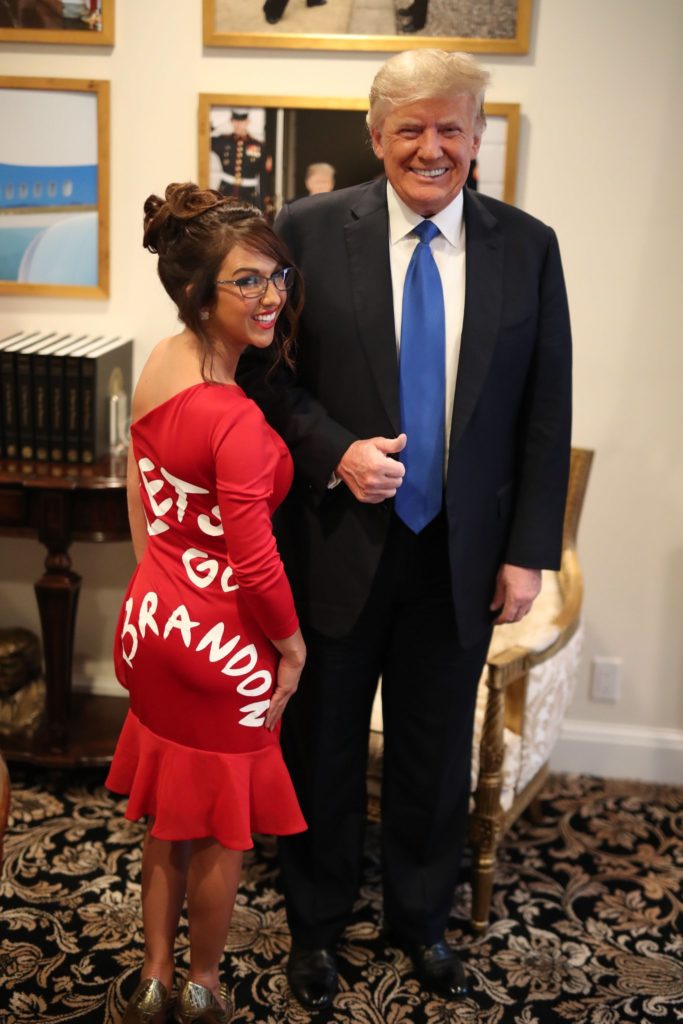 In a brilliant move, Rep. Lauran Boebert posted a picture of herself mocking AOC's dress, celebrating this week's election victories, and posing with 45th President Donald Trump. In her tweet, she referenced the latest trend against Biden, calling it a "movement."
Her dress was taking a shot at Alexandria Ocasio-Cortez's "Tax the Rich" dress she wore at the opulent Met Gala. AOC's appearance at the event shocked and outraged even leftists, as she appeared to be contradicting her own agenda as a socialist (despite the tacky dress's "message").
Boebert cleverly mocked the socialist with her much more party-appropriate phrase.
She posted this picture after the bloodbath that was this year's election cycle. Democrats were handed major defeats—in what many are calling a referendum on Biden's administration. The biggest losses were felt in Virginia, where Republicans took the governorship, lieutenant governorship, and attorney general seat (along with gaining control of the House of Delegates). Democrats also lost in various races across the country.
But appearing alongside Donald Trump really took the cake. Democrats still hope that the 45th president is in our rearview mirror. They even claimed Youngkin won in Virginia because he "distance" himself from the Republican (despite Trump endorsing him and hosting tele-rallies). The reality is, smart Republicans (who like to win elections) continue to flock to Trump's America-first banner.
The sight of Trump getting anywhere near politics sends liberals fleeing into the hills. The sight of a young, popular, female congresswoman proudly posing with him? Democrats really can't handle that.
Key Takeaways:
Lauren Boebert trolled the left by posting a picture of herself with Donald Trump.
She wore a dress mocking AOC's "Tax the Rich," while celebrating Republicans' wins this week.
She called the latest anthem criticizing Joe Biden a "movement."
Source: Fox News