Biden's Press Conference Goes Down in Flames – On Live TV, Joe Whispers Veto Threats and Brags About High Inflation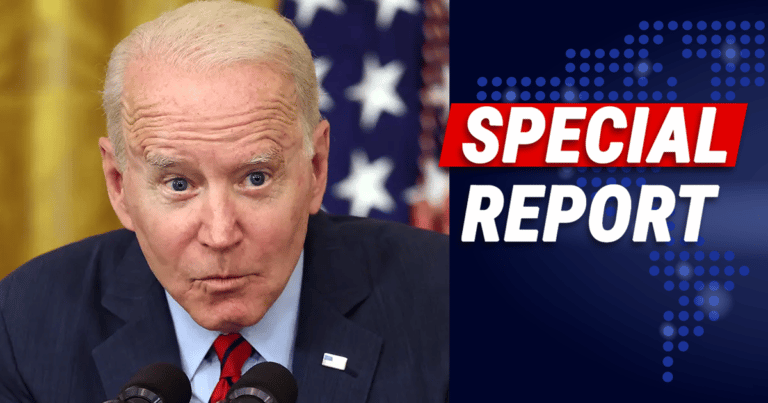 What's Happening:
Joe Biden refuses to admit his administration is in shambles. He directly caused runaway inflation and other major crises. And, after two years, he hasn't done anything to fix them. To make matters worse, he continues to show the world that he is unfit to lead.
Just take this recent press conference for example. Biden commented on the House-passed bill to get rid of his army of IRS goons. In a return of his creepy whispered voice, he said this.
From YouTube:
Gosh, Joe, what the heck is wrong with you? Biden is promising to veto a bill that will protect Americans from unwarranted audits and endless pain. All so Biden can tax us harder and give that money to his donors. Yet again, he whispered into the microphone, like some kind of pervert.
It got even worse from there. Biden tried to tout his team's "accomplishments" by claiming food prices are getting better. But the fact remains, things are very bad.
From YouTube:
Lol, okay, Joe. He said we saw the "smallest increase" in food prices last month. But that means they are still going up. So, taken over those two years, food prices are at an all-time high. Joe literally admits it himself.
Food prices aren't going down, they are going up. According to some reports, food prices are 11.8% higher than they were not that long ago. Americans can't even buy eggs, for crying out loud. Yet Biden is pretending like he is doing something about it?
A real president would have tackled the problems contributing to inflation head-on. Or, better yet, would never have made decisions that triggered this inflation in the first place! But Biden is hardly a real president. He is a puppet for the woke establishment and lobbyists. His degrading mental health only further proves he had no leadership ability at all.
And everyone is suffering because of it.
Key Takeaways:
Joe Biden had a meltdown during a recent press conference.
He vowed to veto the House bill nixing his 87,000 IRS agents, in a creepy whispered voice.
He tried to brag about food prices, although he even admitted they are still going up.
Food prices have risen every month since Biden took office, thanks to his policies.