President Biden's Hometown Just Betrayed Him – Joe Gets Humiliated by the Voters of Scranton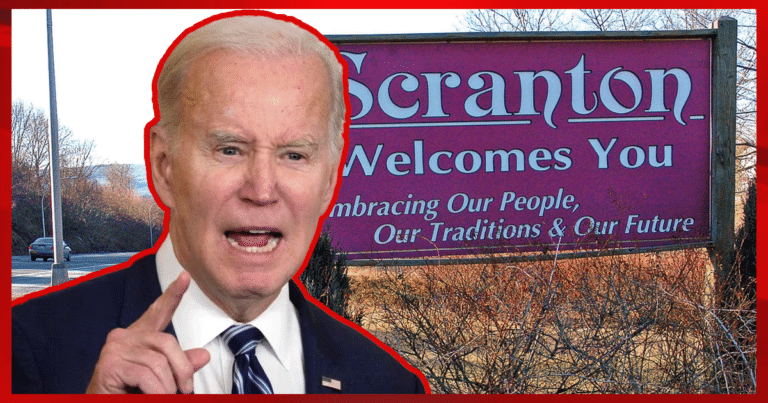 What's Happening:
If you were to believe the Democrat-controlled media, you'd think that Joe Biden is beloved by Americans from coast to coast. There's not a single person who isn't better off thanks to Joe and they often show their gratitude. The only people who could possibly hate him are those "MAGA Republicans" who are just racist and evil!
But one reporter went down to Biden's hometown, Scranton, PA. This is a place he often talks about, even though he hasn't lived there in 70 years. The reporter asked what these folks thought of old Joe. And… it wasn't what the left wanted you to hear.
From The Western Journal:
"Despite those strong ties, interviews with about two dozen Scranton voters show many harbor deep concerns about Biden running again," Renshaw wrote…

"I worry about his age and his health," business owner Jenn Saunders told Renshaw…

"I still think there should be more than street names that are changed and highways that are renamed for you," 29-year-old Glyn Johns said.
Ouch. Folks back home in Scranton are none too pleased with how Joe Biden is leading. According to a reporter–who spoke with two dozen residents–few approve of Biden's presidency. One woman, who voted for Biden, said she is worried about his health and age.
An activist blasted Biden's lack of accomplishments while in the White House. He even mocked Joe for having street names changed to his name, but changing little else.
Many appear to be critical of "Average Joe," who seems to only be helping the liberal elite. Since Biden entered office, his policies have only managed to help rich Democrats in coastal blue states. Meanwhile, inflation and high gas prices are hammering the everyday American.
Folks on "Biden Street" might have Joe's name on their addresses, but they are no better than the day he entered office.
This does not bode well for Joe's re-election bid. Biden maintains he is running again; the Democratic establishment wants him to stay in office, rubbering stamping their agenda. But voters might not feel the same way.
The man is 80 years old. And a rough 80 at that. He has failed to do anything to help regular Americans. In just two years, he's managed to start endless crises and disasters. By 2024, we might be embroiled in a global war.
Does that inspire confidence, even among liberal voters? Hardly. If Democrats have any sense, they'd find someone–anyone–to run instead of Joe Biden.
But we all know they don't.
Key Takeaways:
Folks in Biden's hometown had nothing good to say about him.
Residents of Scranton, PA criticized Biden's failures and advanced age.
Biden has done little to help the average American since entering office.
Source: The Western Journal