Biden's Hush-Hush Homeland Program Leaks – They Just Got Caught Gathering Intelligence on Average Americans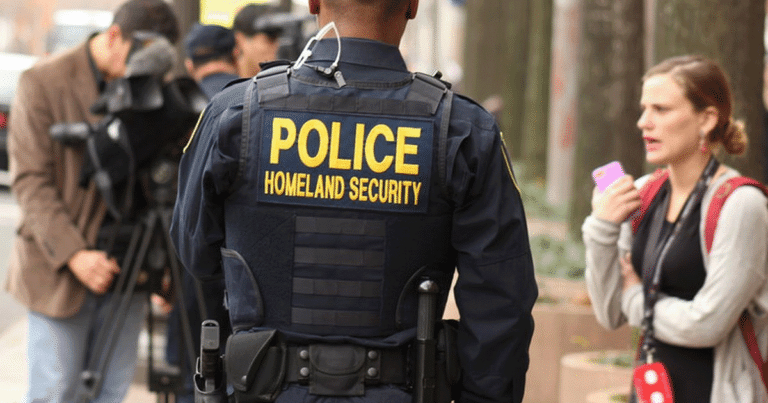 What's Happening:
What is going on in the Biden administration? What we know about the incompetence and corruption seems to just scratch the surface.
The State Department used Twitter to censor Americans (not to mention failed to evacuate Americans from Afghanistan). The FBI and DOJ went after parents and raided a former president's home (and ALSO worked with Twitter to silence you).
And now, yet another federal agency under the White House is caught trampling over our constitutional rights. A new report has come out, exposing Mayorka's Department of Homeland Security.
And guess what they've been up to? From Breitbart:
The Department of Homeland Security (DHS) secretly maintains a domestic intelligence program that allows agency officials to interview willing Americans without their lawyers present, raising civil liberties concerns, according to a report…

Under the domestic-intelligence program, officials are allowed to seek interviews with just about anyone in the United States. That includes people held in immigrant detention centers, local jails, and federal prison…

But the fact that they're allowed to go directly to incarcerated people — circumventing their lawyers — raises important civil liberties concerns, according to legal experts.
What the heck? The DHS has a program called the "Overt Human Intelligence Collection Program." Under this program, DHS agents–not FBI agents–are able to collect intelligence from anyone within the United States.
The program requires the person to be willing, but come on, man. When was the last time an officer didn't bend the truth to "finesse" someone into speaking with them? These are Biden administration officials, mind you.
They are even going to people in jail and questioning them, without the presence of their lawyer. These agents could be gathering information against the very people they are interviewing. Or incriminating information on other Americans.
This program is so shady that nobody knew about it. We only know now because a whistleblower released documents about it. Apparently, staffers were so worried about the red flags this program raised, that they wanted the agency to pay legal liability insurance.
Not great, you guys. Biden's federal government is so corrupt, they are just going around shaking down American citizens for information. We don't know if they acquired warrants. We don't even know if these interviews are even associated with ongoing criminal cases.
It sounds as if Biden's DHS was just secretly going around, asking your neighbors for information. Talk about a violation of rights!
Key Takeaways:
The DHS was exposed for conducting a secret intelligence program on Americans.
DHS agents would question people, without their lawyers being present.
Employees blew the whistle, revealing this program to the public.
Source: Breitbart