Biden's Border Crisis "Plan" Revealed: Give Illegal Migrants IDs The Instant They Get to the Border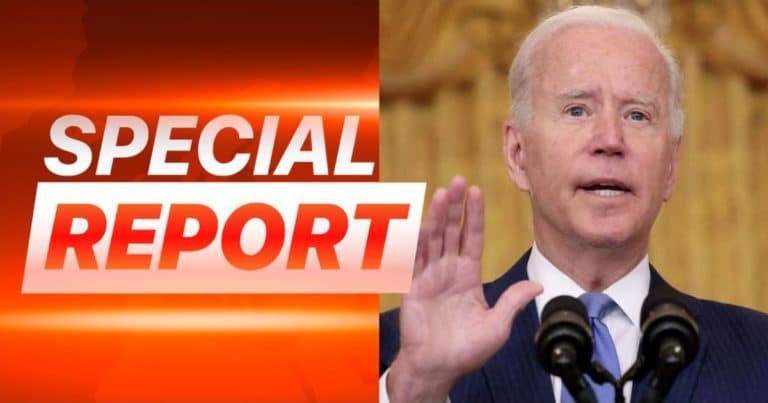 For most of Joe Biden's presidency, the southern border situation has been a hot-button issue for many Americans. Some Republican leaders claim it's Biden's biggest failing during his tenure.
The Department of Homeland Security (DHS) has reported increasing numbers of encounters and arrests, and in some cases we're seeing record highs. Texas counties have even declared the flood an "invasion."
However, President Biden's new idea may not be viewed as a "solution."
In order to help clear the over-clogged border and expedite the processes, the Biden administration will reportedly try a new tactic. It involves giving illegal migrants an immediate boost when they arrive.
This leads to the other issue many Americans have with the crisis:
The fact that many illegal foreigners receive benefits and other aid in the form of taxpayer dollars doesn't sit well with hard-working legal citizens. Then there's the debate over government-issued IDs.
For a while now, it has sounded like Democrats simply want to circumvent existing citizenship and immigration law. And Biden appears to back at least some of that theory.
From Breitbart:
President Joe Biden is considering issuing government identification (ID) cards to border crossers and illegal aliens who are set for release into American communities as part of the Department of Homeland Security's (DHS) expansive 'catch and release' operation.
According to Axios, the government wants to try giving temporary ID cards to undocumented immigrants who are waiting for a final decision on their cases.
The administration wants to get Congressional approval before the end of September so they can start this test, likely because they're concerned about Republicans taking control after the midterm elections.
If granted, these temporary IDs  would allow undocumented travelers to receive state benefits while still not citizens of the country.
It's another add-on to the controversial catch-and-release idea, which former President Donald Trump did away with. In its place, he implemented "Remain in Mexico," which Biden quickly worked to reverse.
Biden also halted construction on the border wall, another big project of his predecessor designed to stabilize the southern border.
And last year, over a million unauthorized travelers entered the U.S., which GOP leaders say is not only a huge security problem for the country — but also a major safety situation for the migrants.
For example, the number of undocumented deaths has risen sharply according to some state sources, and the CBP has mysteriously not revealed this data since Biden entered office.
Now, instead of attempting to crack down on the situation with more security, it looks like the current administration would rather make it easier for illegals to get in and obtain benefits.
Key Takeaways:
The Biden administration reportedly wants to give illegals "temporary IDs" when they arrive at the border.
This would allow them to more easily obtain taxpayer-funded state benefits, even while not being legal citizens.
Democrats want to push this through Congress before Republicans have a chance to take control in November.
Source: Breitbart