Biden Creeps Out Young Girl in Photo-Op – Joe Grabs Her Shoulders, Tells Her No Guys "Until You're 30"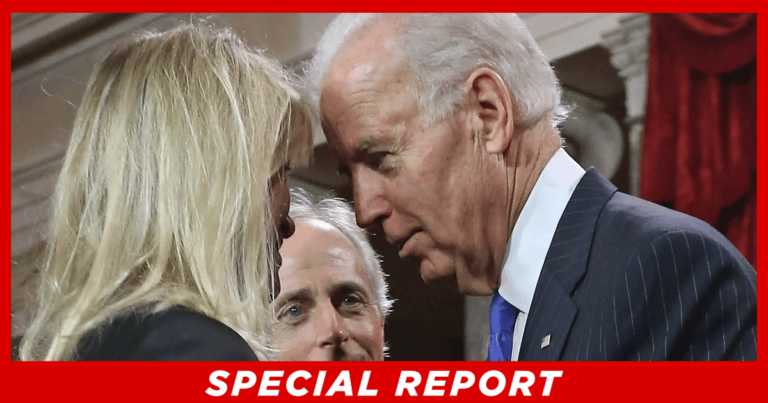 What's Happening:
Long before he became "president," Joe Biden had a long history of doing inappropriate things around young women and girls. We all remember the "hair sniff" heard 'round the world.
But it seems that his White House staff have worked extra hard keeping the old man away from children. Gosh darn it, though, you can't watch the man 24/7 (not with this Secret Service). And so, Creepy Joe comes out when the left least expects it.
He was standing with a group of young people for a photo. That's when this almost 80-year-old man reached out and did this.
From Daily Caller:
President Joe Biden was caught giving dating advice to yet another young girl Friday while at a speaking event in Irvine, California.

"Now, a very important thing I told my daughters and granddaughters — no serious guys until you're 30!" President Biden told the young girl as he gripped her shoulders in a video which has since gone viral on Twitter.
President Joe Biden grabs a young girl by the shoulder and tells her "no serious guys till your 30" as she looks back appearing uncomfortable, secret service appears to try to stop me from filming it after Biden spoke @ Irvine Valley Community College | @TPUSA @FrontlinesShow pic.twitter.com/BemRybWdBI

— Kalen D'Almeida (@fromkalen) October 15, 2022
Yikes. From what we saw in the video, the teenager was having a good time. She was even smiling until Joe Biden reached out and touched her shoulder.
The man decided to bring up a shockingly inappropriate subject matter–for girls he doesn't even know.
Why the heck is Joe talking about this girl's dating life? Even as a joke, it comes off as weird and out-of-place.
I mean, I don't even want my grandpa talking about my dating habits. I can't imagine what this girl was thinking when Groper in Chief decided to give her this "advice."
According to the report, the Secret Service actually tried to stop the reporter from filming this interaction. Good job, you guys.
The video has received 5.6 million views at the time of this writing. Maybe the Secret Service needs to get better at shielding Biden's indiscretions.
Or, how about next time you keep this weird old man as far away from children as possible?
It's good to know that not even being "president" is enough to stop this man from acting like this around young women. You'd think he'd hide this side of himself, for the sake of his office.
But nope! At least Bubba Clinton hit on women who were "of age." Biden can't even wait until these girls are 18 before showing them what a skeevy man he is.
Key Takeaways:
Biden, again, acts inappropriately around young women.
He touches a girl and talks about her dating life.
This comes after a long history of Biden's bad behavior around women.
Source: Daily Caller