Hours After Biden Stalls And Scrambles In Washington – The Pope Turns Around And Cancels Joe's Greeting Live Broadcast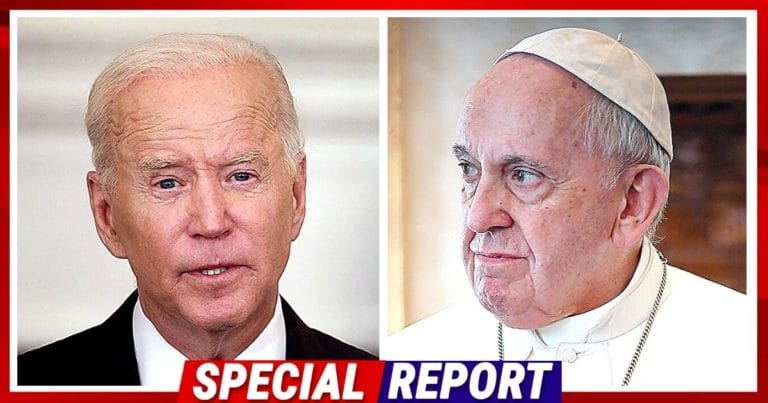 What's Happening:
Joe Biden is (according to some) the second Catholic president in our history. If you ask some Catholics, they might tell you another story. Many bishops and priests across the country have been critical of Democrats in D.C. who claim to be Catholic, but violate basic teachings of the church.
Yet Biden still wants to hold onto this title, perhaps to coerce Catholics into voting for him.
He was going to visit the pope in a big, televised meeting. But it seems Biden has to shuffle around his plans to push for his toxic spending bill.
From Twitter:
President Biden is expected to attend the House Dem caucus meeting tomorrow at 9, per @mkraju, likely to convince progressives to vote for the infrastructure bill. He was initially scheduled to leave for Europe around then but will likely push his departure back a few hours.
And it seems Biden's last-minute insult to the pope resulted in the TV event's cancelation.
From AP:
The Vatican on Thursday abruptly canceled the planned live broadcast of U.S. President Joe Biden meeting Pope Francis on Friday…

Cancelled was the live coverage of Biden actually greeting Francis in the palace Throne Room, as well as the live footage of the two men sitting down to begin their private talks in Francis' library, at which time the cameras would have stopped running.
The Vatican has abruptly canceled plans to broadcast Joe Biden and the pope's meeting. This comes after Biden altered his plans to accommodate a meeting with progressives to push his radical agenda.
This news comes as Biden and other Catholic Democrats damage their reputation among church leadership.
It seems Biden has such little respect for the leader of the Catholic Church, that he'd push back their plans, forcing the Vatican to scramble. Perhaps the Vatican could have rescheduled and broadcast the meeting. But since they decided to scrap it all together suggests they are more upset than they let on.
Catholics around American have expressed displeasure over Biden's agenda and proposed stances. While claiming to be pro-life "personally," he said he was pro-choice "publicly." Whatever that means. Biden's continued support of policies incompatible with traditional Catholic teaching has put a wedge between himself and Catholic Americans.
This snub to the Vatican will only further that divide.
I'm no Catholic, but something tells me you don't move around plans to meet with the pope. That just seems like something you don't do. Instead, you should move around your plans to make sure the pope is accommodated.
Doesn't seem that Biden gets that at all.
Key Takeaways:
Joe Biden had to push back his plans to meet with the pope over his spending bill.
The Vatican decided to scrap a televised meeting with Biden and the pope.
This comes as Catholic leaders continue to criticize Democrats in D.C.