Biden Suffers 3 Christmas Disasters – Joe Leaves Out 'Reason for the Season,' Stages Tree Photo Op, and Feigns Unity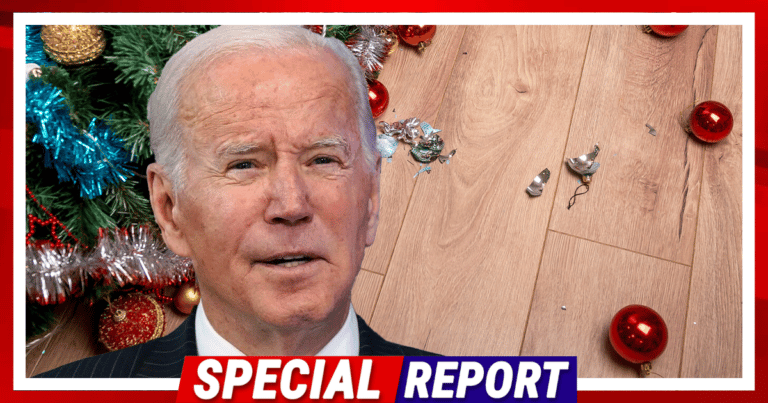 What's Happening:
Well, we all just celebrated Christmas. And, as you'd expect, old Scrooge himself, Joe Biden, tried to capitalize on the holiday. You'd expect a president to say something around this time of year. But, keeping to his failed track record, Biden's attempts to "wish" us a Merry Christmas fell as flat as a nursing home patient climbing the stairs.
First, he posted a tweet that made everyone laugh.
From Biz Pac Review:
The Bidens sent out a tweet purportedly showing them decorating a tree on Christmas Eve with the president on a ladder, bowl in hand, which absolutely strained belief and spawned hilariously brutal memes on Twitter.
Just a few finishing touches! Hope you and your loved ones are having a great Christmas Eve. pic.twitter.com/zdCjjRrI9o

— President Biden (@POTUS) December 25, 2022
Yikes. Does anyone believe this guy climbed that ladder himself? How many aides had to hold him steady, before they took the photo? I'm sure there were about a dozen Secret Service agents just out of sight, ready to grab the old man if he faltered.
But things got much worse when he issued a Christmas address.
From Fox News:
In his address, Biden said he hopes the holidays will "drain the poison that has infected our politics and set us against one another," adding he hopes people realize the many unifying attributes of being an American.

On "The Five" Friday, the panel of co-hosts was quick to point out several instances of Biden himself intentionally dividing Americans along political and other lines, including his Philadelphia speech when he dubbed "MAGA Republicans" "semi-fascist."
So, Biden used Christmas to push "unity." He literally said that he hoped the holidays would "drain the poison" of our politics. Um… this is the same guy who called MAGA Republicans "semi-facist" and "threats to democracy."
The same guy who pitted vaccinated Americans against their neighbors. The same guy who constantly attacked Americans, simply because of their political party. And now he's trying to sound like the guy who wants unity?
That wasn't even the worst of it. During his entire Christmas address, he failed to mention the actual reason we have the holiday.
From The Conservative Brief:
President Joe Biden made an attempt to unify the country during a Christmas address on Friday but may have wound up dividing Americans even more, considering the president's holiday speech denoting the birth of Christ did not mention "Jesus" or "Christ" at all.
Not once did Biden mention that Christmas is the celebration of the birth of Christ. You know, the reason for the season? I'm sure that the politically correct person who wrote the speech for him was too afraid to mention Jesus Christ in a Christmas message.
Or they were too secular and God-hating to even think of that.
Do you know what would be a real Christmas miracle? If this guy was held accountable for all his failures.
Key Takeaways:
Joe Biden made numerous "fails" during the Christmas season.
He was mocked for a photo of him on a ladder. People did not believe he climbed it.
During his Christmas address, he called for unity after attacking Republicans all year.
The president failed to mention Jesus Christ during his entire Christmas address.
Source: Fox News, Biz Pac Review, The Conservative Brief