President Biden's Downward Spiral Accelerates – New Polls Show Joe May Not Ever Recover From This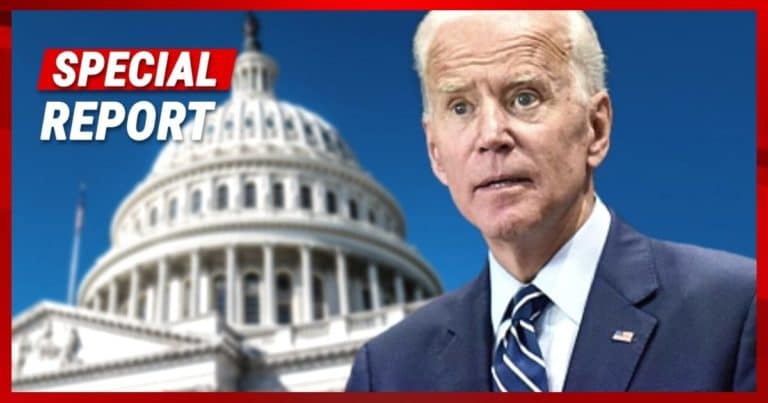 What's Happening:
If you had asked plenty of Americans last year if they'd be surprised this would happen, they would have told you no way. Biden was always going to fail. He was an establishment puppet sent to reverse Trump's America-first policies. Of course, he'd fail.
But perhaps we didn't expect him to fail so terribly, so quickly.
Biden's approval started to drop early in the Spring. But since numerous disasters and crises, it's only gotten worse. Democrats are panicking, with some trying to openly defy old Joe. Now, a new series of reports show just how bad the man is doing.
From Daily Wire:
Democrat President Joe Biden's presidency is sinking fast as America's two major political parties begin to focus their sights on the upcoming midterm elections which are now just a little over a year away…

The finding from Pew Research Center that Biden went from being +12 in July to -9 in September represents a stunning -21 point shift in a matter of just a mere two months…
93% of Americans are concerned about rising prices.
56% do not believe that he is mentally sharp.
66% are not confident that he can unite the country.
Biden has lost support from every key demographic surveyed.
Biden has seen his support decline by 21% among voters who consider themselves to "lean Democrat."
Man, it's bad all over the map. No matter which poll you look at, Biden is losing major support. But Pew Research Center's is particularly eye-opening. They have the man losing 21 points in just two months. And the numbers only get worse from there.
Other polls reveal Biden's losing support among black voters by 17 points. Biden's disapproval is growing, with it at 53% according to Pew Research. Fox News reveals Americans think the country is more divided, by 54-37%.
Gallup has his numbers way underwater, as do many other outlets. This does not bode well for his party's 2022 prospects. If a president's approval is above 50%, he's set to lose about 14 seats in the midterms. If it's below 50%, he might lose 37 House seats. Obama lost a shocking 63 back in 2010.
What does that mean for Biden, who is shaping up to be the worst president in our history?
Nothing good, we can tell you that. Americans are ticked off at how he is ignoring numerous crises he created. He contributed to inflation and a wrecked economy. He opened the border and is letting in 100,000s of invaders. And let's not forget the Afghanistan disaster.
Worse of all, Biden ignores calls from Americans for change, plowing along like everything's fine. The man is projecting arrogance and apathy, even as Americans suffer. He is out of touch and does not care.
He should lose far more than just a few House seats. He should be kicked out of politics.
Key Takeaways:
Biden's suffered a 21 point drop in approval in two months.
Every major outlet reveals his disapproval is greater than his approval.
This comes as Democrats are poised to lose big in 2022.
Source: Daily Wire