Biden's Own Party Just Pulled The Rug Out On Him – Joe Tries To Speed Up Major Deal, But Progressives Slam Brakes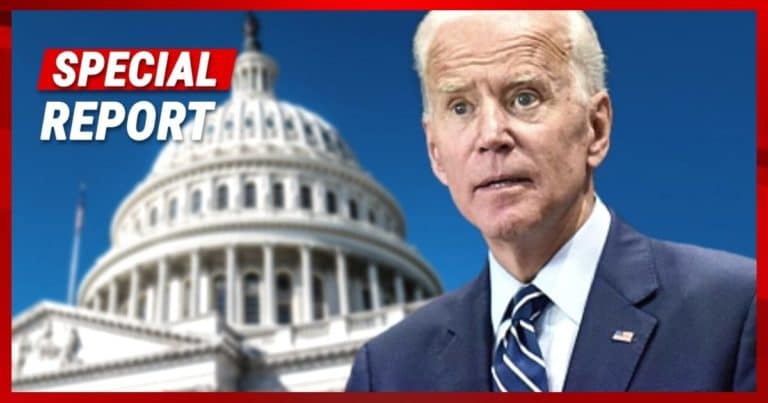 What's Happening:
When Joe Biden entered office, it was pretty clear that progressives thought they were in control of him.. Biden was basically adopting Bernie Sanders' economic policy—creating massive inflation and a worker shortage in the process.
Despite all the failure, progressives were sure Biden would get their socialist spending bill done.
But much has changed since January. And Biden is buckling under the pressure. He cannot get his bill passed in the Senate. He made changes, ripping out much of what the far-left wanted.
Now, they are "paying him back" by slow-walking the process. From Fox News:
The Biden administration is stressing the urgency of garnering congressional support to pass its infrastructure and spending agenda, but even as some House Democrats are willing to schedule votes this week, progressives appear to be in no rush…

"If this takes another 10 days, why is that the worst thing?" he asked. "I mean, don't we want to be careful and really get all the details right and then deliver this for the American people?"
Then Biden got hammered by the left and the right media for how poorly he has handled this deal:
Biden is pushing the House to quickly pass both the infrastructure bill and his massive spending bill. But it seems like progressives are in no hurry, seemingly trying to slow the process down.
This is likely due to the fact that they are outraged that Biden removed much of what they wanted from the spending bill.
A quiet civil war has been raging within the Democratic Party for a while now. But it's only been quiet because the mainstream media has been covering for them and downplaying the major rifts.
Moderates in the House and Senate refuse to support the far left's agenda, knowing it will cost them their jobs come the next election (many moderates lost seats in 2020, thanks to progressives like AOC).
Progressives, however, don't much care about what moderates want. They are hell-bent on pushing a radical socialist agenda. And they are upset that Biden is trying to win over senators like Joe Manchin, who refuse to support a massive spending bill.
In a sort of "punishment," progressives are slowing down the process. They don't want to vote for the bipartisan infrastructure bill. And if the final spending bill doesn't look the way they want it, they might even torch that.
Pretty ironic, if you think about it. Biden has bowed to this toxic group again and again. He's pushed their environmental agenda, their border agenda, and their international agenda. Yet now, they are turning on him over a spending package.
So much for loyalty.
Key Takeaways:
House progressives are slow-walking Biden's bills in an apparent form of protest.
The far-left was outraged after Biden took out much of their spending agenda.
The House might not vote on Biden's bills for weeks, if they ever do.