Biden Rocked by Eye-Opening Prediction – The Economy Is So Rocky, American Majority Fears a Great Depression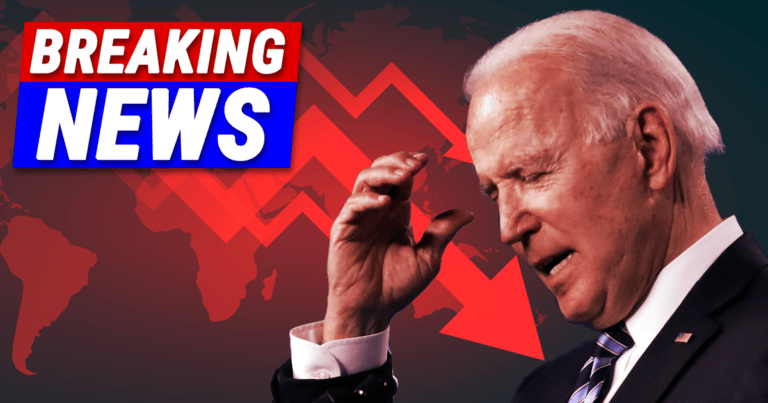 What's Happening:
The liberal media continues to push Biden's claim that the economy is doing great. They were even willing to accept his new definition of "recession," despite years of established fact.
But all that propaganda has not convinced voters. Inflation still rages as gas prices go back up.
And now, a new poll is giving Biden the terrible news.
From Rasmussen Reports:
The latest Rasmussen Reports national telephone and online survey finds that 57% of American Adults believe it's likely that, over the next few years, the United States will enter a 1930s-like Depression, including 21% who think a depression is Very Likely.
Yikes. You can't win elections with numbers like these.
A shocking 57% of those asked believe that America will face a 1930s-like Depression in the coming years.
Of that number, 21% think an economic depression is "very likely."
Hmm… I wonder who these Americans are blaming for this extremely somber outlook?
Not Donald Trump! The 45th president's policies were helping Americans thrive.
But the moment Biden entered office, everything was reversed. He shut down American energy, triggered runaway inflation, and continues to raise taxes and spend like crazy.
And meanwhile, the stock market is struggling.
Biden refuses to acknowledge his failures, as he always has. Because of this, neither he nor his administration will course correct.
Even if that means a devastating depression.
We can't be sure if a depression is in the future. But if this many people fear it, it spells doom for Biden's administration.
Americans are not going to vote for a party they think is causing a depression. And Biden is already a lame duck if this many Americans blame him for all this trouble.
Democrats, for their part, do nothing to reverse Biden's failed agenda. They ignore the border, rising gas prices, and runaway inflation.
Key Takeaways:
Fifty-seven percent of Americans believe we are headed for a depression.
This comes as Biden ignores growing inflation and raises taxes and spending.
Biden's administration refuses to take responsibility for the inflation crisis.
Source: Rasmussen Reports