White House Civil War Spills Out – Biden Spills the Beans on Kamala, And It Affects His 2024 Decision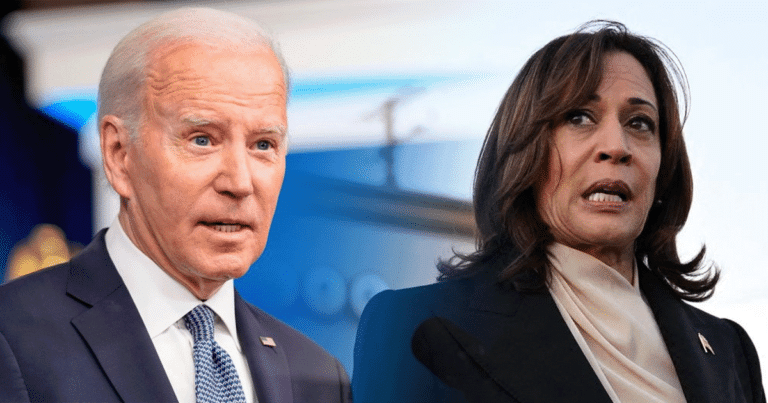 What's Happening:
You and I both know that Kamala Harris is a joke. The woman was picked to run with Biden, because of her race and gender. But once she entered the administration, she become a liability. Harris comes off stupider than Joe–which is really saying something. She has failed to do anything significant while serving the Biden administration.
And a new report indicates that Joe is fed up with her.
From Fox News:
President Biden is reportedly frustrated at Vice President Kamala Harris for not "rising to the occasion" as his second-in-command, according to a recent report from Reuters…

"I don't think that the president sees her as somebody who takes anything off of his plate," a second former White House official said, adding a "fear of messing up" had caused Harris to be late in joining important political fights, like the ongoing border crisis.
Reports from "high-ranking" Biden officials reveal Joe thinks Kamala is not "rising to the occasion" when important issues come forward. And it's so bad, that it seems like this is affecting his 2024 decision.
From The Western Journal:
The report said that even within the White House, the vice president's standing is shaky, as "some who work in or have worked in his West Wing said her engagement on policy was lacking." […]

A Democrat closely connected to the White House said there is a risk, according to the outlet.

"I think this is actually one of the fundamental strategic challenges for [Biden] … how to navigate this. It's almost impossible for them to make a change."
Joe Biden is stuck between a rock and a hard place. Kamala is deadweight, with nothing to her record. BUT she is a black woman, so ditching her could hurt Biden's chances with black voters.
That might not change the fact that Harris is dragging the administration down, with a worse approval rating than Joe himself. Rumors seem to suggest Biden is seriously considering replacing her with someone else.
In either case, it's high time both of them were ejected from the White House.
Key Takeaways:
Reports indicate Joe Biden is frustrated with Kamala Harris's lack of performance.
Rumors suggest her failures are affecting his 2024 decisions.
Biden might not be able to replace her, due to identity politics.
Source: Fox News, The Western Journal