President Biden Slaps Israel in the Face – He Plans To 'Downgrade Jerusalem Security Post,' Demonstrating Lack of Commitment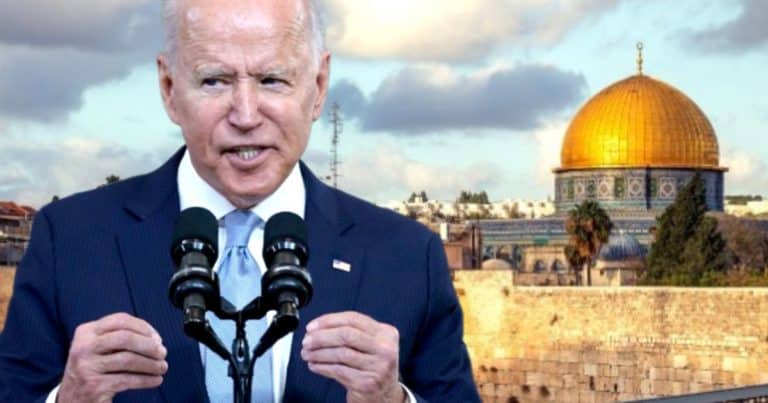 What's Happening:
When Donald Trump was president, amazing things were happening in the Middle East. Ah, how times have changed.
Joe Biden continues to fail on foreign policy, letting down our ally Israel again and again. And now, he's downgrading one post—a sign of his lack of commitment.
From Newsmax:
The Pentagon still plans to change the ranking required for the position of the United States security coordinator for Israel and the Palestinian Authority (USSC) from three-star general to colonel, The Times of Israel reported on Tuesday.

The Jerusalem-based USSC mission serves as the liaison between the Israel Defense Forces and Palestinian Authority security forces, and works to enhance and coordinate security cooperation between them. According to its website, the USSC office also leads efforts in advising the Palestinian Authority on security-sector reform.
Biden's Pentagon is downgrading the rank requirement for the person in charge of coordinating security efforts between Israel and the Palestinian Authority.
This person's efforts help ensure the safety of the Israeli people and essentially discourage acts of aggression by the PA.
Sound important to you? Because it is. Yet Biden doesn't think so, downgrading the rank from a 3-star general to a colonel.
Former U.S. Ambassador to Israel Dan Shapiro blasted the move saying, it made "little sense." He said right now, Israel and other Middle Eastern nations are looking to see leadership from the U.S.
Instead, Biden is showing weakness, pulling a qualified USSC for someone less experienced.
His excuse? To save money. Yeah, right.
When Trump was president, he made history with his Abraham Accords. He was able to broker agreements with Israel and Arab nations that were formerly hostile.
He even had Iran running scared, moving us closer to real peace in that region.
But now? We have no idea what could happen in that part of the world. Joe's weakness has emboldened Iran, which some say could be weeks from having a WMD.
And now, he's pulling resources from Israel, when it is critical we support them.
But why are we surprised? This is a man who failed in Afghanistan, Ukraine, and possibly Taiwan. Why wouldn't he fail in Israel?
Key Takeaways:
Joe Biden's Pentagon is downgrading the rank requirement for the United States security coordinator for Israel and the PA.
This officer is responsible for ensuring security for Israel and Palestinians.
Biden is downgrading it from a 3-star general to colonel is a move that some call a "bad sign."
Source: Newsmax