Biden Picked Up on Hot Mic After SOTU Speech – Joe Tells Democrat Senator, "I Gotta Talk to You About Cuba"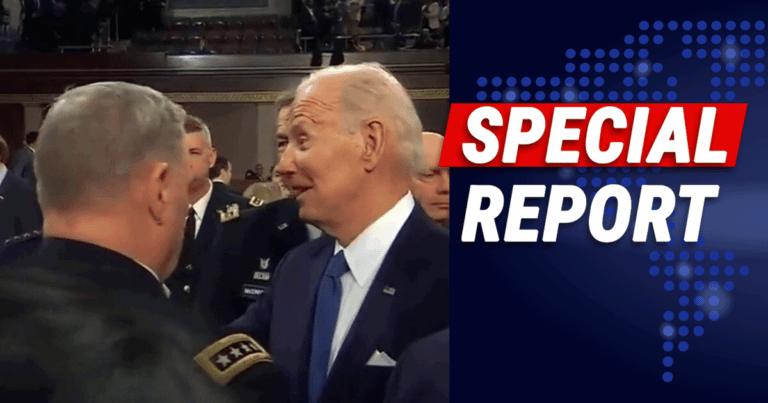 What's Happening:
Joe Biden's second State of the Union address was hardly a slam dunk. The man fumbled and mumbled, slurring his speech and generally embarrassing the country. Democrats were rocked by Sarah Huckabee Sanders' response, blasting their corruption and failure.
But things got odd soon after the event. Joe Biden entered the audience, shaking hands with Democrat politicians. He stopped by a group of liberal senators, zeroing in on New Jersey Sen. Bob Menendez. And a hot mic caught him saying something very odd.
From The Western Journal:
President Joe Biden appeared to catch one Democratic senator off guard Tuesday night with his post-State of the Union agenda.

After the speech, Biden was making his way through Democratic lawmakers, including Rep. Adam Schiff of California and Sen. Bob Menendez of New Jersey.

"Bob, I gotta to talk to you about Cuba," Biden said.

Menendez replied, "OK."

"I'm serious," Biden said.
🚨👀
BIDEN: "Bob, I gotta talk to you about Cuba."
BOB MENENDEZ: "Okay." pic.twitter.com/Px0jhtcSaZ

— Jorge Bonilla (@BonillaJL) February 8, 2023
What was that all about? And why does Joe Biden, who appears to be in the throws of dementia, want to talk to Sen. Menendez about Cuba? The New Jersey senator is known for taking a hardline stance against the communist regime.
Does Joe intend to force Menendez to soften his stance? We all know Biden appears to support the communist and socialist regimes of the world. He rewards Venezuela with money for oil, while shutting down America's drilling.
Biden opened a direct line to migrants from several socialist South American countries, while refusing to enforce our border.
But why, without explanation, did he approach him with that statement? Why is Biden discussing Cuba with anyone? Maybe Joe just wants to plan a getaway vacation for himself and his family?
Hell, he's spent 40% of his time in office on vacation, already. Why not plan a trip to sunny Cuba–and spend time with fellow socialists?
Key Takeaways:
A hot mic caught Biden saying something odd to Sen. Menendez.
Biden told the New Jersey senator he wanted to talk to him about Cuba.
Menendez is known for taking a hard stance against the communist country.
Source: The Western Journal