Biden Rocked By Constitution Violation Charge – Republican AGs File Suit Claiming Joe Can't "Redirect" Wall Funds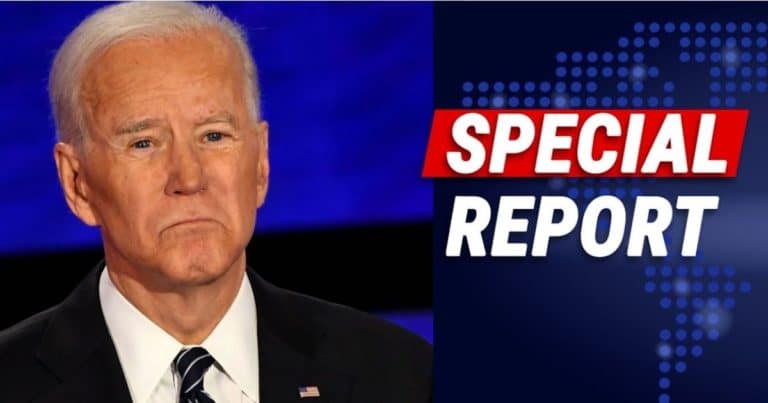 According to most reports, the southern border situation hasn't gotten any better. The number of encounters and arrests are hitting all-time highs, and border officials say they're overwhelmed.
Many say Trump-era policies like "Remain in Mexico" were working, before President Joe Biden stopped them. He also stopped construction of the controversial border wall.
That might not only have been a bad idea — it might've also violated the Constitution.
That's what two Republican attorneys general are alleging in a new lawsuit, leveled this week at the Biden administration.
Southern states are understandably the most concerned about the border crisis, as they're on the front lines. Texas is the #1 battleground, of course, but the fight involves states like Missouri, too.
Both states are sick of seeing their communities under massive strain, and they need that border wall.
That's why they weren't happy when Biden halted construction and redirected the necessary funds. Since then, the border crisis has spun out of control, and security appears to be strained to the breaking point.
Beyond that, the law of the land is involved.
From Fox News:
Missouri Attorney General Eric Schmitt and Texas Attorney General Ken Paxton argue that the administration's halting of the wall's construction when President Joe Biden took office in January redirected funds appropriated for the project, and in doing so violated the separation of powers and the Take Care clause of the Constitution.
Schmitt and Paxton claim an important clause in the Constitution has been violated. And they're not going to let Biden get away with it.
In a statement, AG Schmitt said the Biden administration "has refused to take concrete action to quell the worsening border crisis," and said that without a wall, everyone can "simply march across our southern border."
We've heard this complaint many times in 2021.
There have been multiple examples of constant breaks in security, the recent Del Rio bridge disaster being one of the most recent. And again, it doesn't look like Biden is reacting at all.
Schmitt's office cites the Consolidated Appropriations Act of 2020, when Congress appropriated $1.3 billion for "construction of barrier system along the southwest border."
The 2021 DHS Appropriations Act allocated the same amount, so this means the Biden administration redirected about $2.6B.
And this just shouldn't be allowed, said AG Paxton:
The Biden Administration's flat refusal to use funds that have already been set aside by Congress to build the border wall is not only illegal and unconstitutional.

It's also wrong, and it leaves states like Texas and Missouri footing the bill.

I will not sit idly by while this Administration wreaks more havoc on our state.
This is another instance where southern states are attempting to take matters into their own hands.
In fact, AG Paxton has hit the Biden administration with 7 border-related lawsuits, because his state is tired of being under siege. The problem is, there isn't much movement on these lawsuits.
Even so, that won't stop these Republican leaders from fighting.
As Schmitt told President Biden in his statement:
 If you're not going to do your job, we're going to make you do your job.
Key Takeaways:
2 Republican AGs from Texas and Missouri have sued the Biden administration.
They claim Biden violated the Constitution when he redirected billions of dollars, previously allocated for border wall construction.
AG Paxton said this is "illegal and unconstitutional."
Source: Fox News