After Biden Looks At Giving 6-Figure Border Reparations – Tucker Claims Joe's Latest Move Is "Political Lunacy"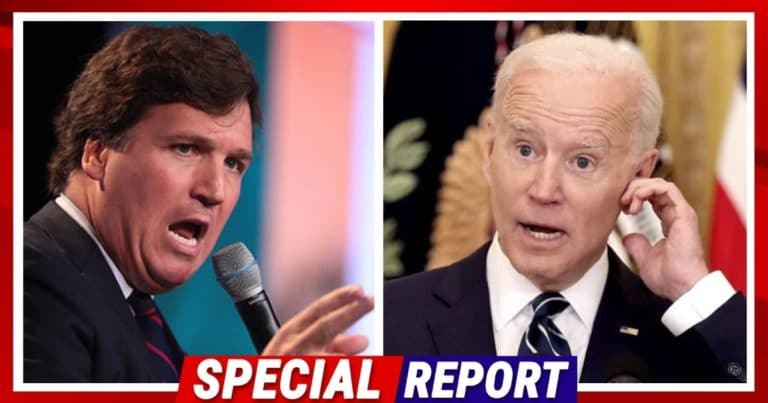 What's Happening:
Over the year, we've had to watch as Biden passed one insane rule after another. He cut off American oil drilling. Canceled needed projects. And bent over backward for Russia and China.
But his latest move is truly a mind-bender.
Biden is not content to open the border to migrants. But now, he wants to spend your money on those Trump kept out. From The Hill:
The Biden administration could pay out up to $1 billion to immigrant families that were separated at the U.S.-Mexico border during the Trump administration…

Sources told the Journal that around $450,000 a person is being considered, but that figure could change depending on each family's circumstances.
Yeah, you read that right. Now, Tucker Carlson is blasting this corrupt agenda. From Breitbart:
According to Carlson, the Biden White House had made some "crazy" proposals, but he called the reparations report "the high-water mark of political lunacy."…

"If you're an American citizen who is killed in a war defending your country, our government promises to send your family $100,000. That is less than a quarter of what Joe Biden intends to give illegal aliens for the inconvenience of being deported… That's more than some of the 9/11 victims got. It's more than any ordinary American ever gets for anything from the U.S. government. Most people in this country, just give."
Even as the country struggles with a supply chain crisis, inflation, and worker shortage, Joe Biden wants to give $450,000 to families deported by Trump, affected by his zero-tolerance policy. Mind you, these are non-Americans who broke the law to come here. They were lawfully removed by a sitting president.
And Biden wants to give them nearly half a million dollars, for little apparent reason.
Biden refuses to spend money to secure the border. He refuses to spend money to improve our military. He refuses to spend money to deal with the supply chain crisis or fix many problems within our government. But he's willing to hand out over a billion dollars to people who should have never been here in the first place.
Do you really think he is putting Americans first? Can you see now what he's really up to?
From day one, it appears the Biden administration put outsiders and invaders first. It opened the border and turned a blind eye to drug cartels and human smugglers. They did nothing as opioids began to flood the country again. And they continue to push policies and spending that will only weaken our economy.
But at least criminals will be getting a cool $450,000. No wonder Tucker was so outraged.
Key Takeaways:
Biden plans on giving deported families $450,000.
The program would cost up to one billion dollars.
Carlson called it political lunacy.