Biden Makes Embarrassing Border Visit Admission – Claims He "Hasn't Had Time" and Maybe He "Should Go Down"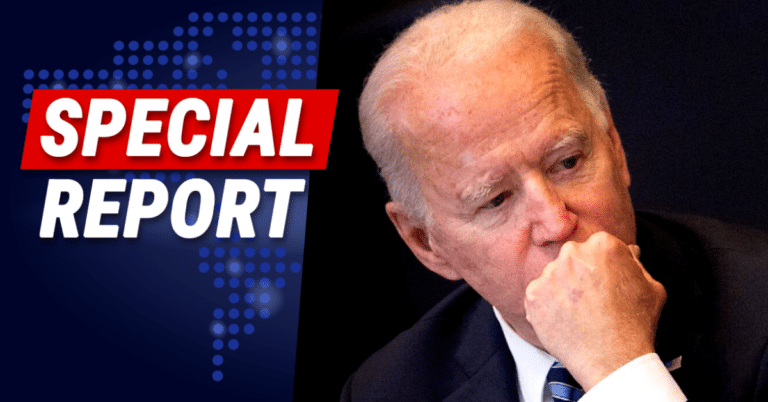 What's Happening:
It's no secret that one of Biden's worst failures has been the ongoing border crisis. It might go down as his biggest failure. Even long after he's out of office, this one crisis will be reaping problems for Americans from coast to coast.
Shockingly, Biden has done little to deal with this crisis. He "tapped" Kamala Harris to address it. Look how good that went over. Now, people are pressuring him to address this exploding situation. He finally bothered to talk about it and why he's never seen the border. But this was his excuse.
From Fox News:
President Joe Biden said on Thursday night that he hasn't had time to visit the southern border to address the surge in illegal immigrants and admitted that he "should go down."

"I've been there before, I know it well, I guess I should go down," Biden told CNN's Anderson Cooper during a town hall event. "The whole point of it is, I haven't had a whole hell of a lot of time to get down."
When pressed by reporters about why he hasn't bothered to view the ongoing border crisis, he claimed he hasn't had time. He then admitted that he should probably go down and see the mess he made. Uh… what kind of excuse is that?
What has Biden been doing that is so much more important? Let's see… he let Afghanistan fall to the Taliban. He announced a controversial and unconstitutional mandate. He's passed restrictive regulations that have contributed to a gas crisis.
And he spends most of his time trying to pass a spending bill that would tax us into the dark ages. Yeah, that is all much more important than an exploding national security and humanitarian crisis.
Many people have speculated that Biden wanted this border crisis, to pump the country full of border jumpers. The situation has gotten so out of control, however, that there is no way he can spin his policies as a good idea. Despite acknowledging it is a real threat, Biden's administration refuses to pass common-sense policies to get the border under control.
Thanks to Biden, over one million migrants have flooded the country. With more on the way.
Biden doesn't have the time to address a national security crisis? That's not even a respectable or reasonable answer. It's more of the knee-jerk kind of thing Biden says to the press. An answer coming from a man who thinks answering the American people is beneath him.
Well, he'll have all the time in the world, after we eject him from office.
Key Takeaways:
Joe Biden claims he hasn't had time to go view the border crisis.
Biden has been ignoring the exploding crisis that he created in January.
The administration has done little to get the border under control.
Source: Fox News