President Biden Runs Into Amendment Brick Wall – GOP Just Moved To Stop Joe From Giving $450K To Border Crossers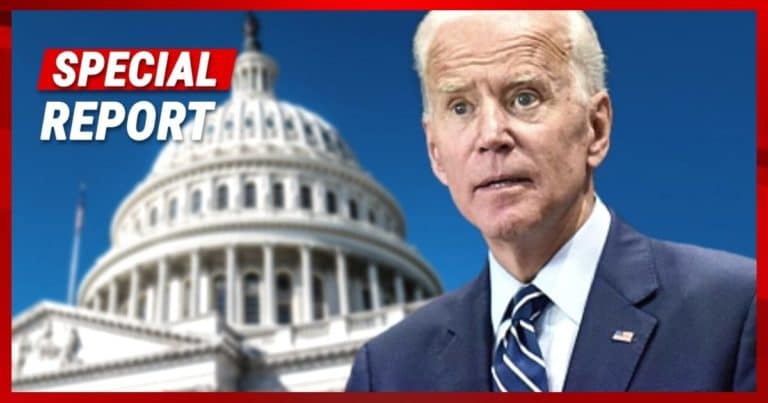 What's Happening:
Rumors emerged last week that Joe Biden was planning a move that would upset many Americans. After turning a blind eye to our unsecured border, he was seeking to reward those who broke the law to get here. Reports claimed that Biden wanted to give some migrants as much as $450,000.
Outrage erupted quickly as this news spread. Americans are struggling to pay the bills, yet Biden wants to give some border crossers nearly half a million dollars? Republicans refused to stand for this. So, they are seeking an amendment to stop Biden in his tracks.
From Fox News:
Republicans in the House on Thursday will introduce a bill to block a reported plan by the Biden administration to pay millions of dollars to illegal immigrants separated under the Trump administration – as President Biden has sought to dismiss the reports…

The bill would block the attorney general from making any settlement payments to illegal immigrants that directly arise from their violation of immigration laws, including laws that criminalize illegal border crossings and that make a migrant inadmissible for attempting to enter a country illegally at a port of entry.
House Republicans are seeking to amend a law, in order to prevent Biden's administration from giving tax dollars to migrants. The bill is co-sponsored by the top Republican in the House, House Minority Leader Kevin McCarthy, as well as many others.
This move would prevent the government from giving money to anyone that has violated our immigration laws. We all know that many migrants flock to the United States, convinced they could cash in on government handouts. This "settlement" from the Biden administration would open the floodgates even wider, as migrants would believe they could get huge sums from our country.
The amendment proposed by Republicans is a strong pushback against Biden's agenda. It tells the country that Republicans aren't sitting back and letting Biden do whatever he wants. And it's possible they are already getting a reaction.
Biden's administration has recently claimed the proposed payouts were "garbage." But it's hard to believe if that's true or that Biden is just backing down. We know he would need to pass some kind of legislation to legally give out these payments. And with his own spending agenda faltering in Congress, there was little chance he could get this idea passed.
The real question is, with Democrats losing left and right because of Biden, why haven't more of them stood up to him in Congress? Why aren't they supporting this bill, which puts Americans first?
Key Takeaways:
House Republicans introduced a bill to block Biden's proposed migrant payouts.
The bill would amend existing law, so Biden can't give out his reported $450K payments.
Biden has recently claimed the plans were "garbage."
Source: Fox News