Biden Admits Crippling Defeat, then Immediately Regrets It – Joe Just Said Codifying Roe Is Gone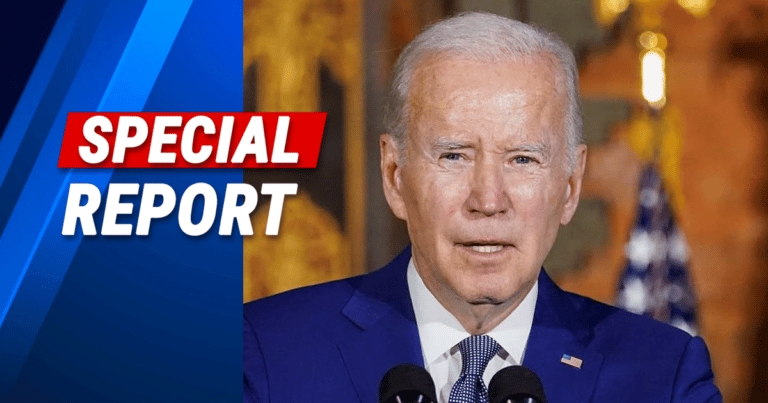 What's Happening:
Democrats have been spinning the results of the midterms as a win. Even Joe Biden appeared defiant the day after the election. Yet he immediately fled the country to avoid the fallout of what happened.
But reporters found him and barraged him with questions. And in a moment of weakness, Biden made a startling admission about the left's chances over their most holiest of grails.
From Twitter:
Joe Biden: "I don't think there's enough votes to codify [Roe] unless something happens unusual in the House."
Joe Biden: "I don't think there's enough votes to codify [Roe] unless something happens unusual in the House." pic.twitter.com/ItyIpoQG50

— Daily Caller (@DailyCaller) November 14, 2022
Oh, so much for his defiant attitude from just a few days ago. Biden admitted that unless something "unusual" happened, codifying Roe v Wade is dead. With the House in Republican hands, any bill to legalize abortion at the federal level is not passing.
Biden suddenly realized he was admitting failure and had to back it up.
From Fox News:
President Joe Biden made news when he said he wasn't confident in codifying abortion rights legislation Monday, but he seemed to regret saying it, telling a reporter that he "shouldn't have answered" his question.
Oh, really Joe? Part of the president's job is to answer reporters. Yet Biden, again, is talking as if he is "not allowed" to answer reporter questions.
How odd is that? Sure, he might not want to admit he can't codify Roe v Wade. But at least has the decency to answer the question.
Biden seems upset that he admitted defeat. But his language once again suggests he is being told what to say. "Shouldn't have answered" implies someone told him to not respond to questions about Congress or Roe.
Isn't this man the president? Yeah, right. We know by now he is just a puppet for the liberal elite. He doesn't seem to be calling the shots. And even when he does actually speak his mind, he quickly regrets it.
Pathetic.
Key Takeaways:
Joe Biden admitted he will not be able to codify Roe after Republicans took the House.
Biden quickly regretted answering the question saying he "shouldn't" have.
Biden has long appeared to be only saying what his handlers tell him to say.