After KJP Completely Botches Defending President Biden – Even Her Buddy Reporters Just Turned Against Her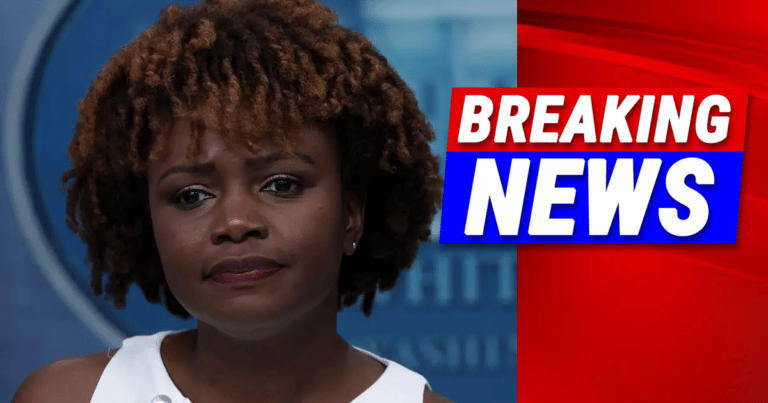 What's Happening:
We thought Biden's last press secretary was bad. But Karine Jean-Pierre managed to top Jen Psaki as the most incompetent person in the administration. We assume she isn't meeting with Biden for briefings. She is told as little as we are. But as the face of the White House, she should at least tell us something.
But, whenever reporters ask her real, tough questions, KJP becomes insulting, scolding, and unprofessional. She frequently refuses to answer basic questions and shames reporters for doing their job. And not, it's only conservative outlets that are getting upset. KJP's own buddies are turning on her.
From The Western Journal:
According to a report Wednesday by CNN's "Reliable Sources" newsletter — of all places — Biden's press secretary has managed to alienate even the cheering section in the White House briefing room…

"You just get the feeling that you're wasting your time and whatever is in front of her in the binder is all she is going to say, no matter how many times you ask the question…"

"She is arguably the least effective White House press secretary of the television era," Darcy quoted one correspondent as saying.
Wow, this is pretty damning. During the Trump administration, White House press secretaries often argued with the liberal media. But they always had ample information for them and never shirked from questions. The same could be said about Trump, who spent extra time answering their questions.
But the exact opposite is true for this White House. Biden rarely holds press briefings and often ignores questions. And his press secretary is so bad, even liberal reporters are upset. According to a newsletter from CNN, the White House press corps is fed up with KJP's lack of skill and professionalism.
They criticized her inability to answer questions. One reporter called her the "least effective" White House press secretary since the "television era." That's a very long time, all things considered. Many press secretaries have come and gone over the years. But KJP is the worst?
Eh… we believe it. She spends most of her time criticizing reporters for doing their jobs–than actually giving them real information. Much like her boss, she seems insulted by the liberal media asking her anything but softballs. Her own former cheerleaders are growing to dislike her.
If this was a real presidential administration, run by a real leader, she would have been fired by now. But Biden does not hold his useless staff accountable. If someone as worthless as Pete Buttigieg still has a job, there is no way Biden is going to fire Jean-Pierre. She'll just coast until she can get a better job somewhere else.
Key Takeaways:
Mainstream media reporters are starting to turn on the White House press secretary.
They are critical of KJP's lack of preparation and unprofessionalism.
Jean-Pierre rarely answers tough questions and often scolds reporters for confronting her.
Source: The Western Journal