After Biden's China Connection Spills Out – Ron DeSantis Takes Action in Florida, Shuts Down the Communist Party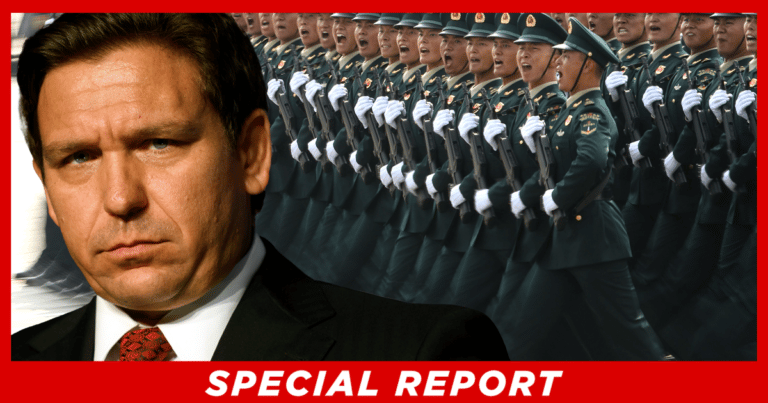 What's Happening:
Americans have become deeply concerned, after news came out of Biden's connections with Communist China. We have long known that Joe is comfy with the foreign power. But the document scandal might prove he was providing classified documents to the CCP, in exchange for millions to his think tank.
It's no secret that Communist China uses its considerable wealth to buy influence in the United States. If we are not careful, the very land we live on will soon be owned by freedom-hating commies on the other side of the planet. Gov. DeSantis of Florida sees what might happen soon. And he's shutting it down in the Sunshine State.
From Just the News:
Florida Gov. Ron DeSantis said he's considering banning Chinese entities from purchasing property in Florida and that the state legislature was looking at ways to further restrict the communist country's influence in Florida.

"We don't want to have holdings [in Florida] by hostile nations. If you look at the Chinese communist Party, they've been very active gobbling up land … and when they have interests that are opposed to ours and we see how they have wielded their authority especially with President Xi [Jinping], who's taken a much more Marxist-Leninist turn, that is not in the best interest of Florida to have the Chinese Communist Party owning farm land, owning land close to military bases."
Gov. DeSantis is taking moves to stop Chinese entities from buying land in Florida. You may not know this, but Chinese companies (which are entirely owned and run by their communist government) own plenty of land in the United States. They have bought large farms, property, and even previously U.S.-owned companies.
Chinese companies have stake in most major American corporations. They have their hands in Hollywood, the mainstream media, Silicon Valley, most colleges and universities, and yes political groups that influence our government. This has been going on for years. And unless someone stops it, Communist China might one day own our entire country.
It makes sense, then, why Democrats are working so hard to destroy our rights, eh? Many politicians are bought and sold by China. And they are pushing social and political policies that could erode not only our Bill of Rights, but our very way of life.
DeSantis is saying, "Hell no." And he is making sure Florida does not fall under the Red Curtain. When will the rest of our leaders do the same?
Key Takeaways:
Florida Gov. DeSantis is considering banning Chinese entities from buying land.
Communist China owns much land in the U.S. and has stakes in most industries.
This comes as evidence suggests Joe Biden is in bed with the communist regime.
Source: Just the News