After Ben Carson Gets Canceled by Liberals – The Good Doctor Stands Up and Blasts Their Indoctrination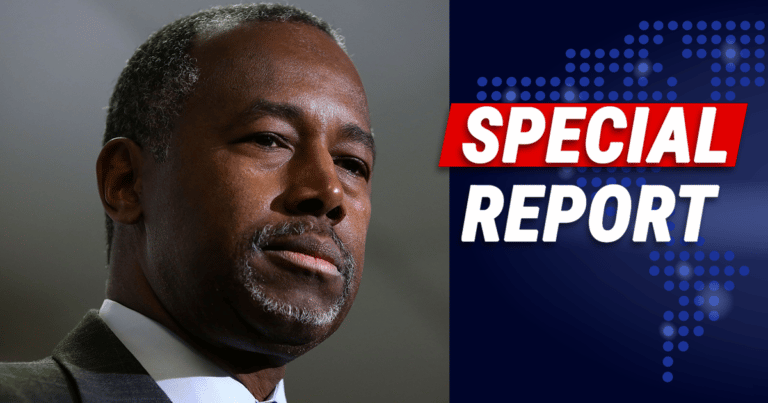 What's Happening:
Long before he entered politics, conservative figure Ben Carson made history in the medical world. The man was a neurosurgeon who famously separated conjoined twins at the back of the head. He also was the first doctor to successfully perform neurosurgery on a fetus inside the womb.
The man came from humble roots to advance his medical field like few others. He even had a school named for him, Benjamin Carson High School of Science and Medicine in Detroit, MI. But radical leftists, outraged that he is a Republican, are removing his name from this school.
And this is how the good doctor responded.
From The Western Journal:
"It's very sad that we've reached the point where political ideology trumps the whole purpose of an educational institution," Carson said on "Hannity." "And we're seeing this wokeness spreading throughout our community to the destruction of our community."

"How does it do any good for us to demonize people with whom we disagree and to teach that to our children at a time when the math scores are down, the reading scores are down [and] academic performance is down?"

"We're failing [students] by pushing this ideology," Carson said.
Carson didn't seem all that upset that the school was removing his name. But that school boards all across America are pushing radical political ideology, instead of teaching our students. Carson pointed out that schools all over the country are well-versed in wokeness and political talking points.
But at the same time, teachers are failing to actually educate students on what matters. Math scores are at an all-time low, as are reading and other metrics. This is after corrupt teachers' unions have, for years, exploited the COVID pandemic to get themselves raises and extended vacation time.
Not once did these crooked, leftist-controlled unions push to improve education standards for America's children. All they seem to care about is advancing a political ideology that brainwashes students and makes them measurably dumber.
Carson doesn't care about his pride in this situation. He can rest in his amazing achievement and how he helped millions of Americans as the head of HUD. He is more concerned with how corrupt leftists are destroying America's future by refusing to teach.
Key Takeaways:
A school board is removing Dr. Ben Carson's name from a high school, for political reasons.
Carson blasted America's teachers' unions and school boards for pushing wokeness over education.
He pointed out that, thanks to this political agenda, math and reading scores are lower than they've ever been.
Source: The Western Journal