54 Republicans Give President Biden a Direct Demand – Joe Must Immediately Take a Cognitive Test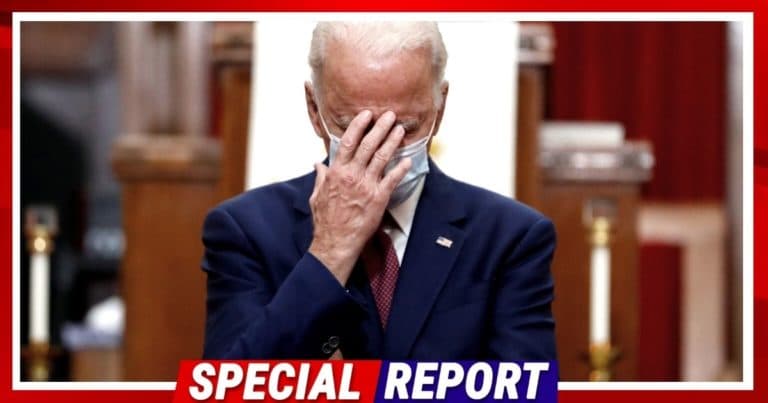 What's Happening:
If President Biden got a 3AM call and America's future was in the balance, would you trust him to make the right decision?
It could happen, and with each passing day, we discover more signs that something is not right with Joe Biden. That he may not be the right man for the job.
Democrats have ignored the many gaffes, inability to walk, and overall lack of energy. But now, a growing number of Republicans are coming after Joe.
From Fox News:
More than 50 House Republicans on Wednesday are calling for President Biden to take a cognitive test, as the president's opponents, and even some allies, question his fitness for the job at age 79…

"We again write to you to express concern with your current cognitive state and to urge you to submit to a cognitive test immediately. We believe that, regardless of gender, age, or political party, all Presidents should follow the example set by former President Trump to document and demonstrate sound mental abilities," the letter says.
Over 50 House Republicans signed a letter urging Joe Biden to take a cognitive test.
This was led by Ronny Jackson, former White House physician to Obama and Trump. Jackson, now a representative, has long expressed concern about Biden's mental health.
Democrats have denied that anything is wrong. In fact, former President Obama even chided Jackson for simply asking the question.
But you don't have to be a doctor to see something is not right. Without a real examination, we are simply left in the dark.
Some have suggested Biden is suffering from dementia or other former of cognitive decline.
We'd run out of space listing the many times he seemed to suffer from memory loss, struggled to speak, or even understand the words on a teleprompter.
Rumors have come out of the White House that aids fear him tripping over wires because he's taken to shuffling around like a nursing home resident.
What else needs to happen, before Democrats are willing to come to the light?
If Biden really is unwell, it is deeply troubling that Democrats are leaving him in charge.
Are they really willing to subject this man to mockery, pain, and misery… just to hold onto power?
Key Takeaways:
More than 50 House Republicans sent a letter to Biden, demanding he take a cognitive exam.
Former WH physician Ronny Jackson has long questioned Biden's mental fitness.
This comes after many signs that Biden could be suffering from some form of mental decline.
Source: Fox News