Top Republican Leaders Sue 2 Blue Cities – Claim Their 1st Amendment Rights Were Violated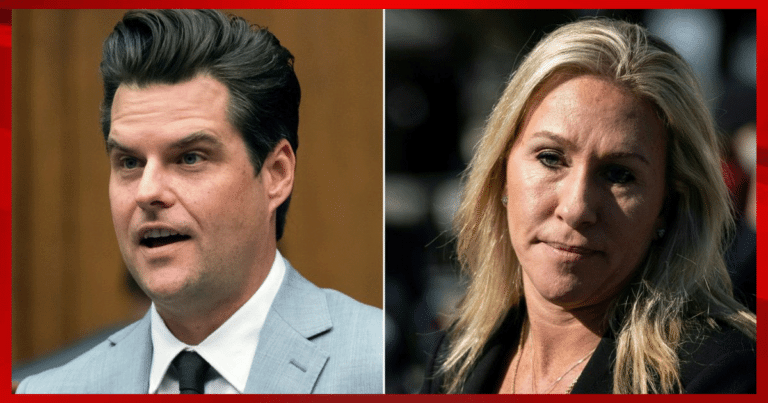 What's Happening:
In recent years, we've seen how Democrats in government have colluded with private companies to trample conservatives. If you support Trump on Twitter, you were almost assured of being shadow banned or outright blocked by the company. But that's just the tip of the iceberg of what Democrats have tried to do to prevent Republicans from speaking the truth.
Two Republican lawmakers planned America First rallies in West Coast cities. These politicians rented out venues, obeyed local laws, and paid whatever fees they needed to. But just before these events could happen, the venues canceled their plans–because of pressure from Democrats. Now, these Republicans are taking them to court.
From Fox News:
Reps. Matt Gaetz, R-Fla., and Marjorie Taylor Greene, R-Ga., are suing liberal advocacy groups and two California cities that they allege violated their First Amendment rights through a coordinated cancellation of their rallies.

The two lawmakers had scheduled America First rallies in Anaheim and Riverside in 2021, but both venues canceled the events after they faced pressure from activists and local government officials. The lawsuit, which was filed Thursday, alleges their First Amendment rights were violated after the cities coerced the private venues to cancel the rallies, including a threat to revoke one venue's permit.
It appears that liberal activist groups complained that Matt Gaetz and Marjorie Taylor Greene, Republican firebrands in Congress, were hosting events in Anaheim and Riverside, California. So, the cities pressured the venues they had rented out and they revoked the Republicans' use of their property.
Have you ever heard of the opposite happening? Have liberal events been canceled in red communities, just because conservatives complained? Of course, not. This only happens one way, when liberals want to silence their rivals.
Gaetz and MTG are suing these cities for violating their First Amendment rights to free speech and peaceably assembling. The First Amendment bans the government from violating these rights. But it also prevents the government from forcing private businesses or companies from doing the same.
These venues could have refused to rent out space for these Republicans. But to cancel their events, after being pressured by Democrats, was a violation. And these two Republicans, known for their passion and intensity, won't take this lying down.
Key Takeaways:
Republicans sued two blue cities for violating their First Amendment rights.
Democrats pressured venues to cancel events hosted by Reps. Gaetz and Greene.
The lawmakers claim liberal groups complained, triggering the cancelations.
Source: Fox News